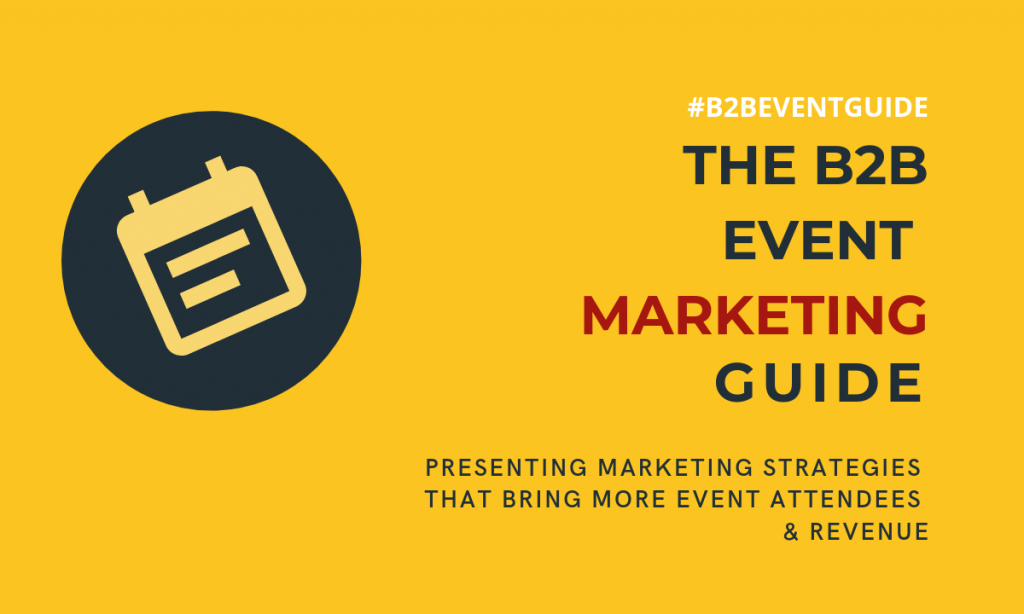 One of the million dollar questions in event marketing is "how do you attract attendees". To try and answer it, we've created The B2B Event Marketing Guide, a 15 chapters report on the full marketing strategy and planning process that goes behind a business event.
The article below is an excerpt from the guide. Find the other chapters here.

In this section: Starting the strategy by establishing the KPIs you are working towards. Building from them to develop a drop plan of marketing channels and timing for each activity (with an example). Effectiveness of different marketing channels in B2B marketing. Synchronising the plan with the booking pattern and taking into account lead times for event.
Nothing is more important than your marketing plan and this can absolutely make or break your event. The closer you get to an event, the more likely you are to get too busy to remember what you should be doing and could get lost in tiny operational bits, instead of implementing the strategic activity that will bring you the best results.
Setting Key Performance Indicators (KPIs)
Start off with putting in place your Key Performance Indicators (KPIs). KPIs will mostly be based on event registrations and revenue (if you're charging a ticket rate to attendees). You can also have secondary KPIs, such as sales leads generated, impressions on social media, click-through rate for ads, target number of registrations per each channel or awareness throughout the campaign. See more in the KPI section.
KPIs will need to be covered through your marketing tracking systems and tech stack.
For marketing tracking, you may be using a CRM system and/or Google Analytics tracking and objective setting, Facebook pixel tracking, LinkedIn pixel tracking and others, depending on the marketing activity you are running. These will help you track the KPIs you've set before and show which channels are performing and which still need improvement.
Putting your marketing strategy together
Then, you need to design a central place where all your marketing channels will direct to, which is where your attendees will go to find out more about the event and register (provided you are taking pre-registrations).
In most cases, this will be your event website or landing page and since your target is to get event registrations and offer people information pre-event, all marketing activity must direct people to your website. A sample workflow to direct traffic to a landing page or event website could look like this: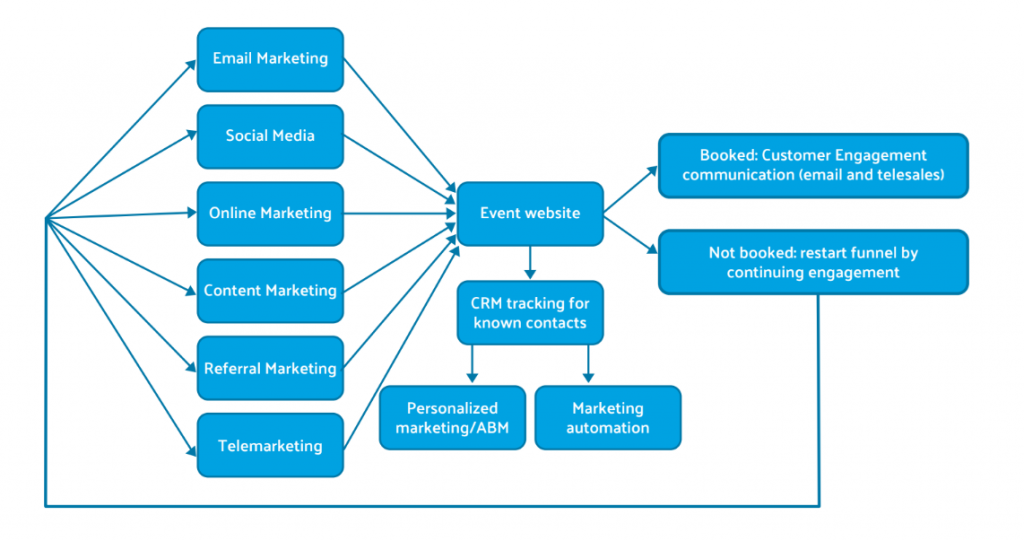 Bear in mind, this is a simple workflow, to which you can add more complex lead collection steps such as filled in a form, played a video, inquired about the event and create a workflow for each of those cases.
You can also integrate marketing automation software in the workflow by using your CRM or email platform and setting up email marketing triggered campaigns.
For example, when someone downloads a piece of content, 3 days later they get pinged with a follow up email to offer more info and give them the opportunity to book for the event.
Also, as you progress through the marketing campaign, your CRM and Analytics systems will tell you which channels are performing and for what category of leads. If a contact doesn't open your emails, re-engaging them in the same way is less likely to work.
This is the point where you decide what channels to use for each of your leads. Make sure you use any information you may have from previous events or from web research to understand which channel work best for your type of event and decide what content, messaging and budget to engage on each one. Alternatively, you can use publicly available stats. Here is what other B2B marketers are mainly using for generating leads: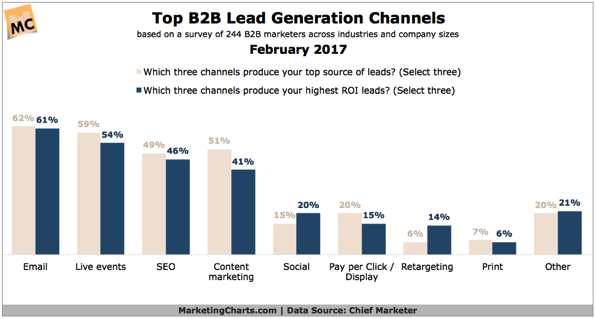 And an extra benchmark you can use as an example of effectiveness of marketing channels: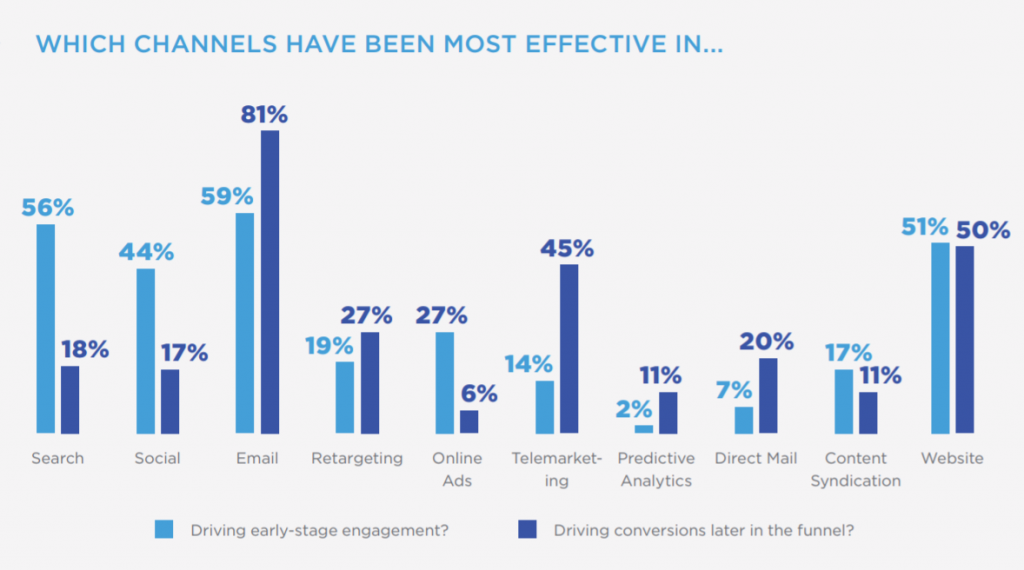 Your marketing plan will contain a mix of all channels above, which we discuss separately, in our channels section.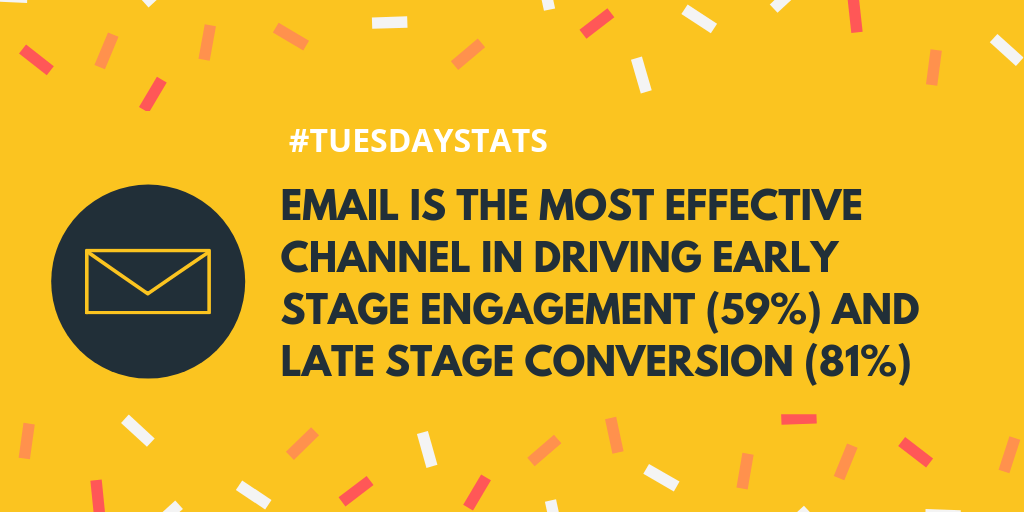 The anatomy of a drop plan for event marketing
Then, a well-designed marketing plan will include:
– The analysis of data you've done at the beginning of your marketing cycle, for future reference and for setting up the context
– A drop plan of marketing activities, including the important milestones of the event
– A booking pattern of expected bookings each week
The drop plan is quite similar for all event companies. At EMS, we tend to do a plan of weekly activities which includes:

– email marketing plan
– social media marketing plan
– search engine marketing (SEM), digital ads (broadly encompassed under online marketing)
– content marketing plan
– media partner, PR, influencers and community outreach (broadly encompassed under referral marketing)
These are timed according to the event milestones (discussed below), based on internal resources (employed from the agency, but also from the client) and marketing spend. There is a time and place for each channel previously mentioned and sometimes it's "not here, not now" – see more in the channels section.
Any good drop plan should also have a contingency plan, where you include activities which you will undertake if the bookings don't come in as expected.
Schedule mid campaign analysis in your plan and then decide if you expand your reach, do more data research, spend more on digital ads, etc.
A sample drop plan could look as simple as this (example for a November 2018 conference where we started work in early July):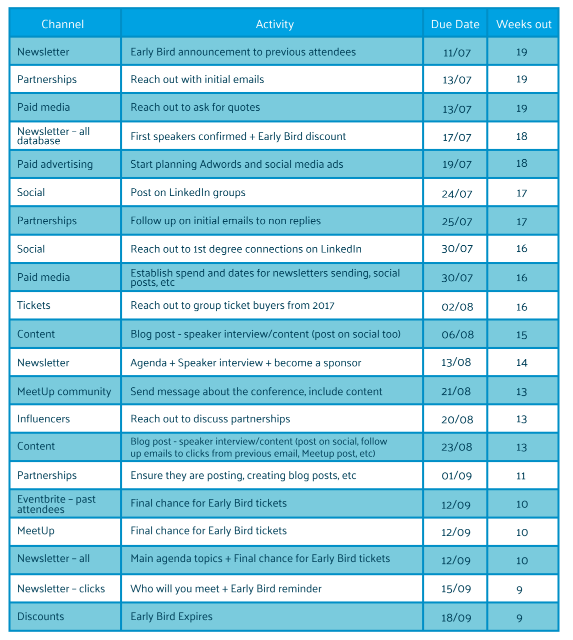 We used Asana to track marketing activity, so the table above is just a guidance of tasks.
Activity will then ramp up as we get closer to the event, since we know that historically, the last 8 weeks will be the busiest for bookings. By this time, any leads not engaging will be removed from the data pool and all channels will be optimised, so you will spend your time and effort engaging only the people most likely to attend the event, via the channels providing the best results.
The drop plan will be synchronised with any key dates (Early Bird discounts, new speakers being added, public holidays) and will be continuously updated based on results.
If, for example, paid media worked very well, you may consider doing this again in the campaign, if you have budget.
The booking pattern will give you an idea of what your results should be each week, based on the results you're looking to get. If you're working on a recurring event, you'll base your booking pattern on the previous event and update to reflect your new targets. If you're working on a launch event, you can use a similar event booking pattern to update this. Consider that:
Around 6-8 weeks out is when the doubling point takes place, which is when your event registrations are half-way there. So, if you have 50 registrations at the doubling point, you'll have 100 by the time of the event
Bookings tend to pile up close to Early Bird dates, so make sure you space these out to have multiple peaks for registrations
The pricing strategy you choose will also be dependent on your lead time. Start marketing your event too late or too early and you might miss some opportunities.
Based on the size and scope of your event, there is an optimum lead time, which ensures you focus your efforts in a specific amount of time to get the most results.
Lead times
Most business events we worked for have delivered good results on a 20 weeks lead time, where the first 2 weeks are used for planning and in the remaining 18 you implement the marketing strategy.
If the event you're putting together is small, you can consider a shorter lead time, though we wouldn't recommend working on less than 10 weeks out and this estimation will always be based on your internal capabilities and data.
This will be true for physical events, regardless if access is free or paid. Of course, you can get results on very short lead times too, but this is probably also the reason why event coordinator is one of the most stressful jobs (source). So please, don't add another nail in that coffin.
For online events, such as webinars, we'd recommend shorter lead times, of 4-6 weeks. Statistics show that 29% of attendees register on the day itself and an extra 17% register more than 15 days before (source), so your remaining 54% will register between 15 and 2 days out.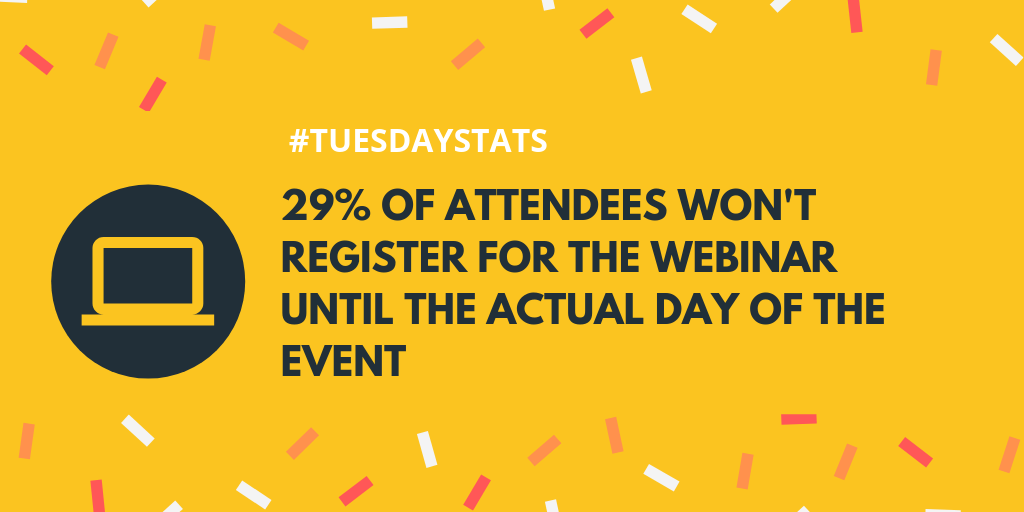 Remember, whilst this statistic takes into account when people actually register, that won't be the first time they hear about the webinar. It takes several touchpoints for a lead to convert, but we're addressing more about this in the lead section.
Key takeaways: put in place a weekly drop plan of marketing activities that will be geared to delivering the results you set up to have via your booking pattern. Make sure you understand the flow of registrations for your event and optimise your marketing activity throughout the campaign.
What would you say are your main planning tools? Let us know in the comment section!
If you're interested in The B2B Event Marketing Guide, fill in the form below to download it: