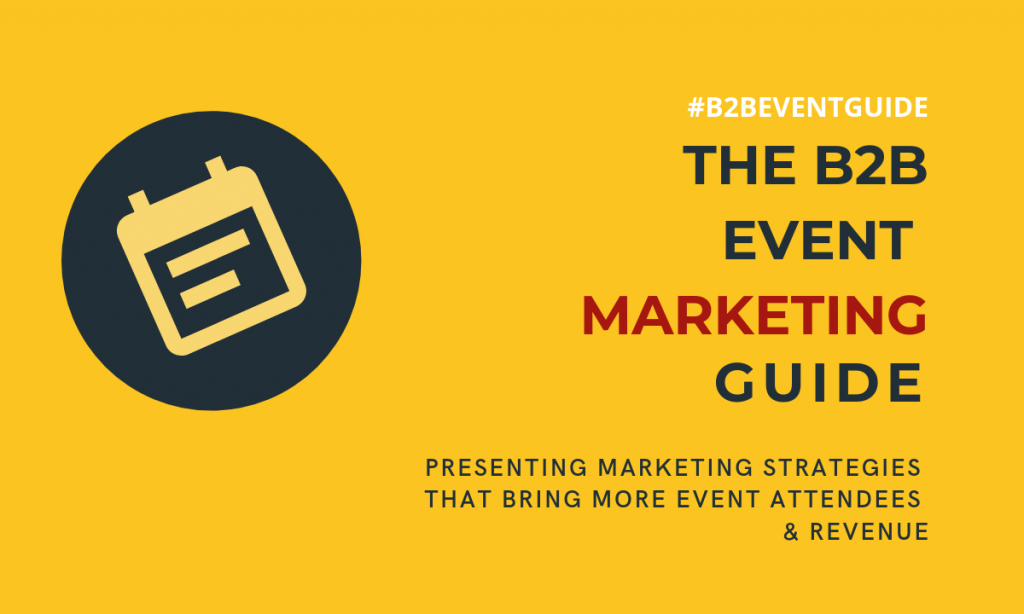 One of the million dollar questions in event marketing is "how do you attract attendees". To try and answer it, we're putting together The B2B Event Marketing Guide, a 15 chapters report on the full marketing strategy and planning process that goes behind a business event.
The article below is an excerpt from the guide. Find the other chapters here.
In this chapter: The lead funnel and advancing leads through it. Attracting leads and ensuring you have enough information about them. Considering the different stages leads are in and pushing them to convert when they are ready. Lead scoring and Account Based Marketing. Remarketing to get leads back to your website and performance indicators for lead campaigns.
Leads used to be something mostly your sales team would have to worry about, but not anymore. Your marketing funnel will be very important in event marketing too, since they will be your future customers and you will need to account for different tactics to engage with users across your funnel. Here's an example of the marketing funnel, stages and tools you can use: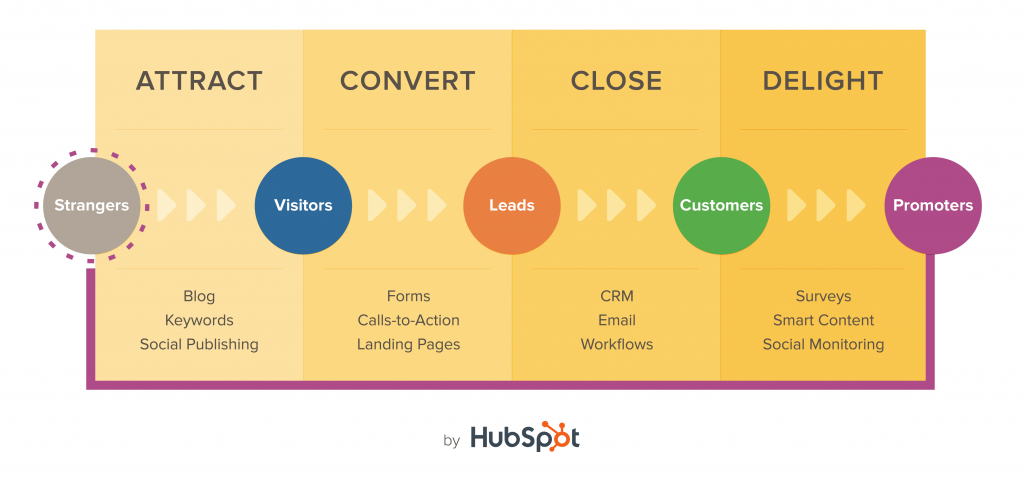 If you're running a repeat event, you will already have contacts in different stages. Your previous event attendees will be customers, which will only go through the delight stage. Former leads, that have engaged with your content or website, but haven't joined the event, will be in the lead or visitor stage, so you'll use different tactics to take them to the customer stage.
Not everyone will be ready to go through the next phase and not everyone will do so at the same time.
Some leads may not convert to customers ever or may convert in a few years' time and you will learn to differentiate between them as you continuously track their activity and through the feedback they provide you.
Attracting leads
If you're running an event for the first time, you will start with the attract stage, using methods such as data research, content marketing, social media marketing, SEO, PPC, partnerships and others that will generate traffic to your website, which we've discussed in our channels sections previously.
Once you have visitors to your website, your goal is to try and collect information about them.
Visitors will have different trajectories from here:
1. Become a customer, by registering for your event

2. Fill in a form, to find out more

3. Exit your website without offering any contact details
Converting leads
The first situation is a conversion and it is where you want all your visitors to be. Conversion rates vary greatly based on things like the landing page content up to the content of your event agenda, speakers or timing.
Invesp researched 35 lead generation websites and found an average of 13% of visitors converted to a lead (this will include #2 in the example above). We discussed more on improving conversion rates here.
One of your goals is to collect as much information as possible about your visitors, so in order to do this, ensure you have lead collection forms in place. The contact details of your prospects are valuable, so make sure you offer something in exchange for it, like a piece of content, a special discount or access to specific information before everyone else gets it.
For example, bands like Rolling Stones and others have a pre-sale period for subscribers to their newsletters, when they announce a new concert.
Make sure that what you offer is similar in value to what you are requesting.
If you're offering a report download, you can ask for job title and company (on top of their contact details), but it it's a contact form, you might want to keep it briefer, just contact information. If you have a form for speaker submission, you may want to ask about previous speaking engagement or a short description of their talk.
If your forms aren't getting a lot of submissions, review what you are offering in exchange for your leads' contact details, how complex the form is or even how visible and adapt. Here's some further reading into lead generation forms.
Lead scoring and closing
Once you have the lead information, it's time to convert them to customers. Not all leads will be equally valuable for your event, so this is where lead scoring comes into play.
Lead scoring attributes a value to each lead, based on their likelihood to become a customer and it is an internal process you will build and review constantly.
You will also consider their fit towards your goals too. For example, if you're running a mining event, targeting senior professionals in mining companies and technology providers, the VP of Glencore (one of the world's biggest mining companies) will have a high lead score, whilst an executive at a very small mining company will have a lower lead score.
Lead scoring will help you understand which leads need to hit with which message. Some will be ready to buy, so you will contact them about registering for the event, the latest speakers added to the line-up, special offers or discounts ending.
Some leads will still be in the prospecting stage, so you will have to offer them content and keep the messaging less sales-y, aiming to peak their interest and transition them to the ready-to-buy stage.
If you want to discover more about lead scoring, here's a handy guide on what lead scoring is and how Marketo does this.
Account Based Marketing
Additional to lead scoring, B2B companies and events have seen an increasing ROI from Account-Based Marketing (ABM), where you develop strategies to attract your high-value targets. Since ABM is highly targeted and segmented, marketers will focus on a few prospects, those that have the potential to return the highest return.
For example, if you're running a technology event, you'll probably want attendees from companies such as Microsoft, Google or Samsung. If we take Microsoft as an example, through ABM you start drilling down in their structures and begin to understand people in which departments or job titles attend events like yours, who is the decision maker, what sort of content are they mostly interested in, what are their key objectives and challenges.
This will then help you target them specifically, with the content that is mostly relevant to them, so you can get a higher engagement from these prospects and they are more likely to attend your events.
Luckily, while this seems like a very time-consuming job, we live in the technology era, so there are plenty of tools that can help you automate ABM. Here's a review from G2 Crowd on account-based marketing software.
Remarketing
Finally, if people exit your website without offering any contact details, they are not lost. If you have their cookies consent (if they are based in the European Union), you can still track their website activity and engage them with remarketing ads, to ensure they come back to your website.
Remarketing ads (on Google, Youtube, LinkedIn, Facebook, etc) are either text or banner ads that are shown to past visitors of your website. You can show the same ad to everyone on your website, or target them differently, based on the pages they have visited.
Your goal is to offer them an extra reason to return to your website, so you want to advertise new speakers, special offers, deadlines or even remind them of the topic most important to them and that you are addressing at your event. Remarketing ads can also be used for leads, to engage them and convert to customers.
This increases web traffic from a segment of your audience that is more likely to convert, since they are already familiar with your event. You can target these contacts with tailored landing pages, to ensure you collect their contact details and transform them into leads.
For example, if some of the visitors have visited the data stream from your event agenda, you can create a landing page where you present the speakers, topics and attendees working in the data industry, including also a piece of content, such as an interview with a speaker. Top it off with a lead collection form to find out more or to download the full list of attendees and start tracking conversions coming in. Here are a few examples of remarketing campaigns and how to set them up.
Performance indicators in lead generation
After your lead collection strategy is established, it's time to look at conversion rates and the quality of leads you are generating. Compare the profile of leads generated via your campaign with leads generated by other campaigns or previous events or with previous event attendees. Do they match up? If they don't, how are they different, in a better or worse way?
If you're not generating the quality leads you want, what can you change in the process: different content, different landing pages, shorter or longer forms, different segmentation or targeting? Keep testing and improving until you reach your optimum results.
If the quality is correct, look at new strategies to increase the number of leads. Inbound strategies generate results over a long period of time, so be patient and give your strategy time to provide volumes. Here is a guide on running inbound marketing campaigns from the kings of inbound, Hubspot.
Key takeaways: Adapt the channels and your messaging based on where the leads are in the marketing funnel. Qualify your leads through lead scoring and pursue the ones most likely to convert.
If you're interested in The B2B Event Marketing Guide, fill in the form below to download it: