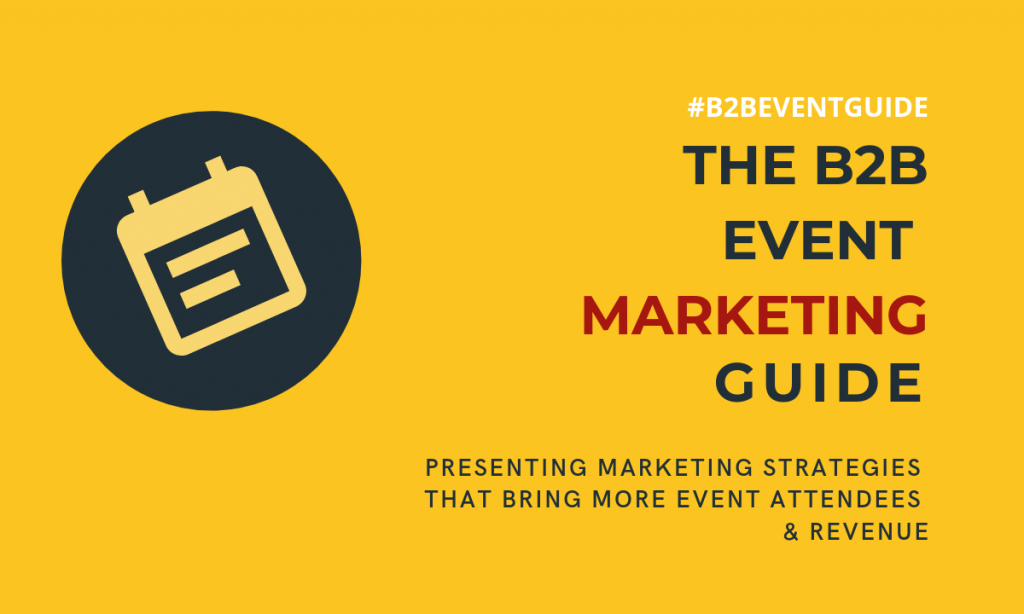 One of the million dollar questions in event marketing is "how do you attract attendees". To try and answer it, we've created The B2B Event Marketing Guide, a 15 chapters report on the full marketing strategy and planning process that goes behind a business event.
The article below is an excerpt from the guide. Find the other chapters here.
In this section: What are the options for event branding and how does this relate to your company branding. What is the structure and content of event websites and how you can perform keyword analysis for search engine optimisation. Building your blog and using performance indicators for event websites.
Your owned media will be comprised of your website, blog post and social channels. Each of them should be carefully reviewed when starting an event, to ensure they are synced with your full marketing campaign.
Event branding options
You may have a company website and create a sub page or a landing page for the event, such as Salesforce do for their event, Dreamforce. The link in the menu directs to the event website, which is built on the main website at https://www.salesforce.com/dreamforce/.
Keeping both the brand name and the event name in the URL has its benefits for branding and awareness. Marketing campaigns promoting Salesforce will also benefit the Dreamforce event, whilst the separate website will mean that the Dreamforce event can also be promoted separately.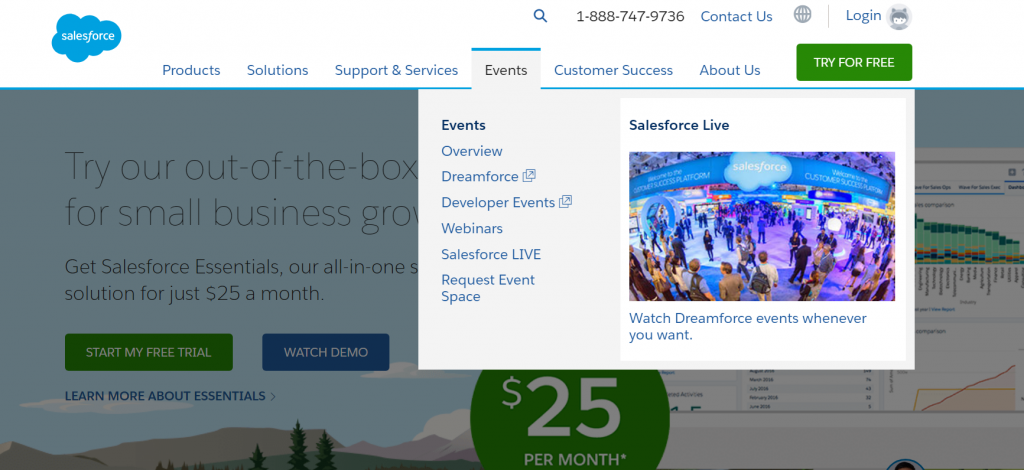 Alternatively, you may have a page that brings together all your events in one place, with each event having its own landing page or website, like the Telegraph and other event companies do: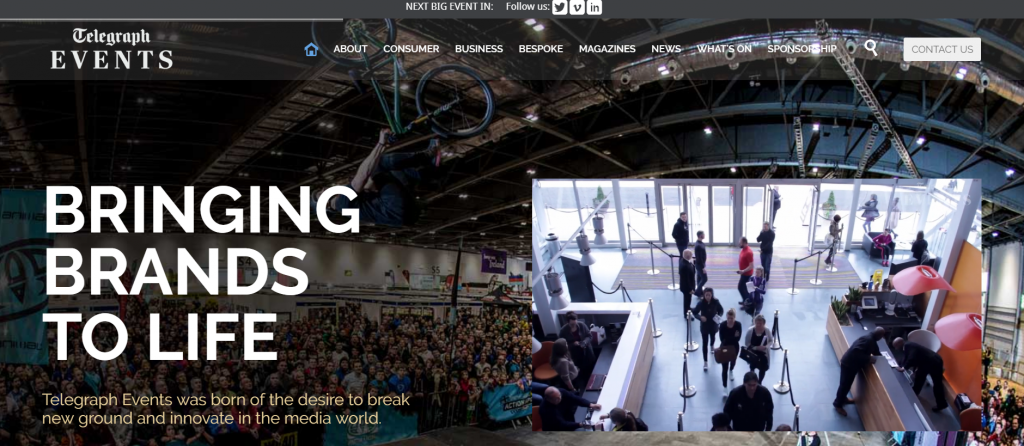 The Telegraph have different event categories, each with a section on the website:

The Telegraph have a mixed strategy, where each event has a dedicated landing page on the Telegraph Event website, but also its own website, where full details are offered. For example, if you click on consumer events, you can reach a landing page of The Telegraph Ski and Snowboard Show London, with details of location and timing (http://telegraphevents.co.uk/whats-on/the-telegraph-ski-and-snowboard-show-london/):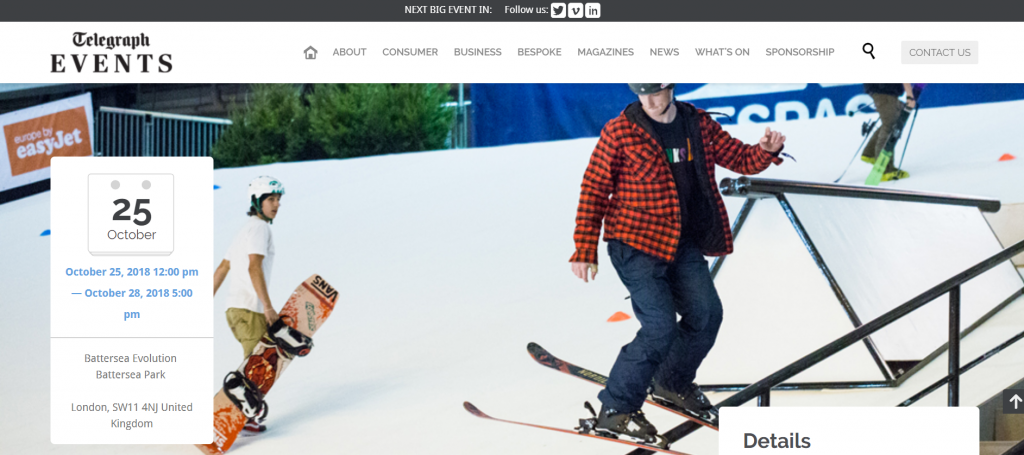 But you can then also go to the full event website here: http://www.skiandsnowboard.co.uk/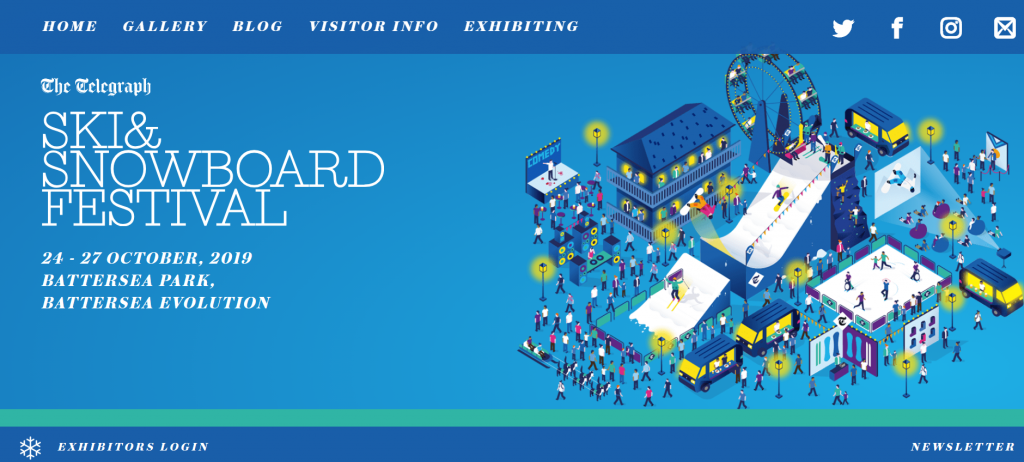 Thus, the event can also benefit from the Telegraph brand by being posted on their events website (making it findable for people looking for Telegraph events). Also, by having its own event URL, it is easily discoverable by people looking for ski and/or snowboard events. This is a way of using the brand for awareness, but also creating an event brand, where the 2 brands are promoted in parallel.
Another example is having different brands for the event and the organising company, with the link between the 2 being less visible. This is the approach big event companies take, such as UBM. Their corporate website speaks about the UBM brand, the sectors they are active in, the global reach and their people: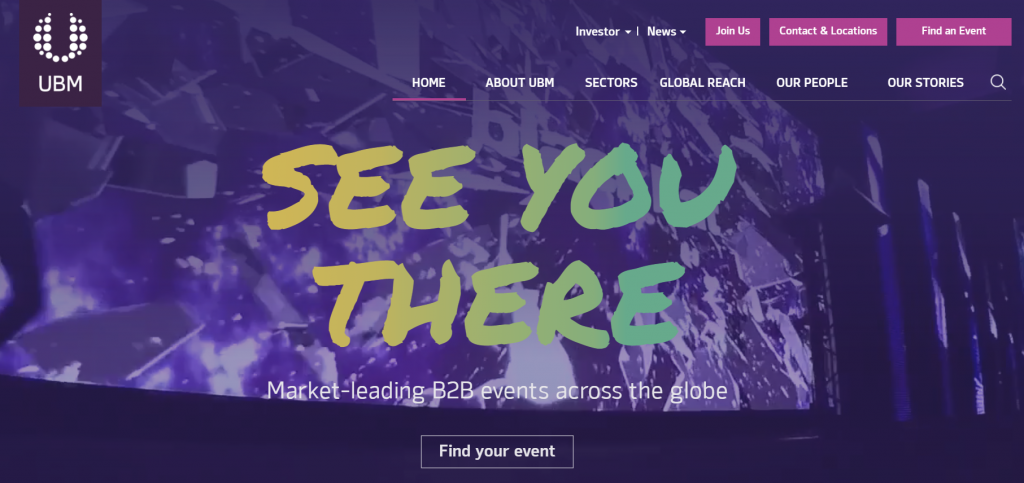 Whilst each event has its own branding, such as DesignCon, an UBM event: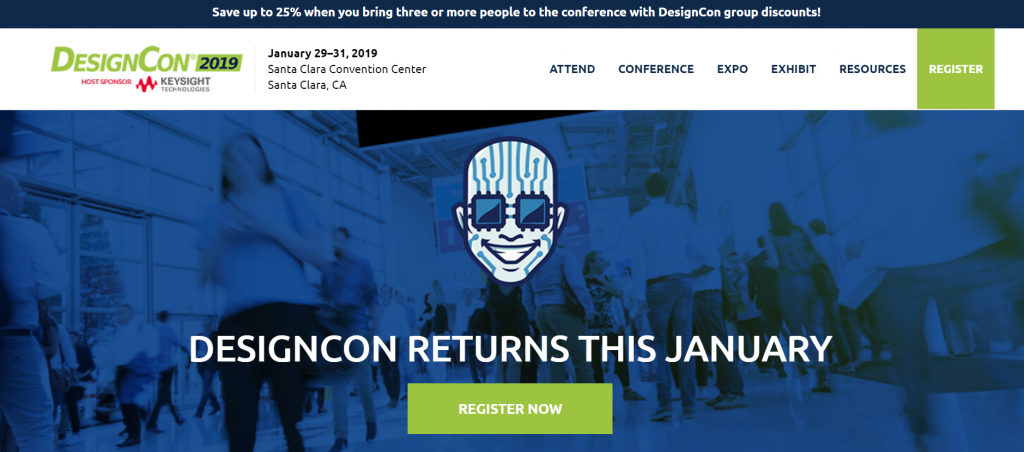 Where the link to the brand is only visible in the website footer: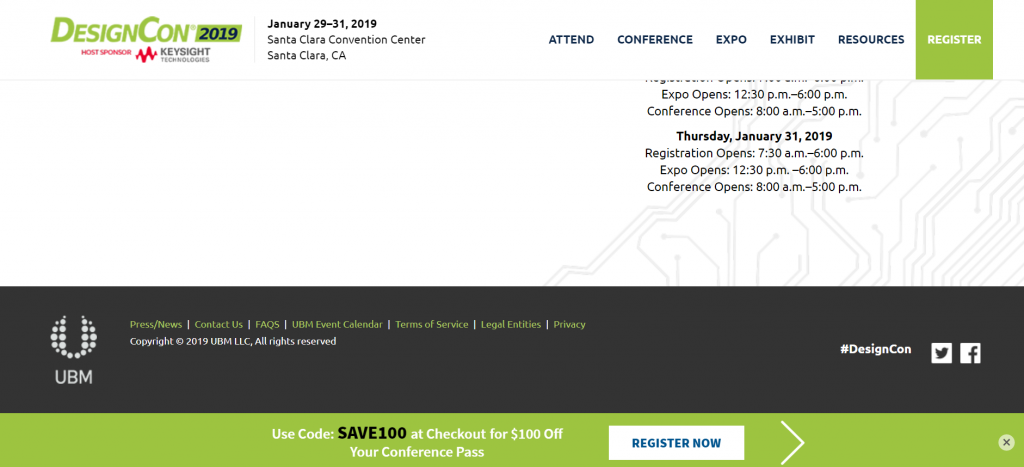 If you're searching UBM on Google, you're less likely to find the Designcon event specifically than in the Telegraph event above. However, the UBM brand is still visible and gives the event credibility. Based on the advantages presented above, you can choose how to link your event page to your brand page.
Event website content, structure and making it SEO ready
The next thing to consider is the structure and content of the event page. You will discuss with your web designer what sort of structure to follow. Here are a few examples of beautifully designed event websites from the Bizzabo blog and some landing page examples from the Hubspot blog.
Your event structure and content will go hand in hand, so you will have to consider both at the same time.
The goal of your website is to offer information about the event that will make visitors convert to attendees, so ensure the links to book your tickets and get in touch are visible and easily accessible on the page.
Another goal is to understand who your website visitors are and try to collect information about them, which we cover in the lead collection and analysis sections. Here is some further reading from Bizzabo on principles to increase landing page conversions.
When you prepare the content and structure for your website, it's also time to research keywords and make your website SEO ready as much as you can.
There are multiple websites and software that will be helpful in this process. When we built our agency website, we used KWFinder and Google Keyword Planner to research the best keywords, the ones that had enough traffic, but also a CPC that isn't too high.
This shows on which keywords you still have a chance to have a good position, whilst also optimising your budget for future pay-per-click campaigns on Google. We chose B2B events and then build the home page content to include "B2B events" throughout the copy as many times as this was relevant, in URLs and in image description.
If you're not sure what to do to improve your website search engine strategy, you can use site crawlers that monitor your website and give you tips on improving your presence. Here is a list of 60 site crawlers you can use. Don't worry if you have multiple keywords, you can build landing pages that are optimised for each one.
This way, you can use the homepage as a central place for all marketing activity, but have tailored landing pages for different ads or campaigns. For example, if your conference is touching on several subjects, you can build landing pages for each subject and then use them in your marketing campaign. Here's an example from Gartner's Application Architecture, Development & Integration Summit 2019: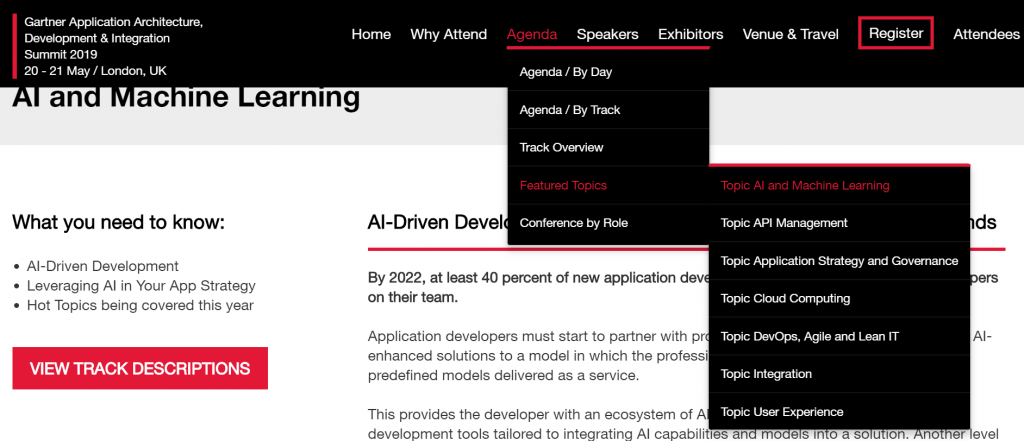 In the example above, each topic can be optimised for search engines and be used specifically for those segments. For example, if Gartner want to promote the event in a developers' community, they can post the link to the DevOps topic.
Similarly, you can have industry or sector based landing pages. There are platforms such as Instapage which can help with landing page building and personalisation.
Your website can further benefit from a blog post, though we'd recommend you create a blog only if you have resources (people and time) to invest into it. How frequent you post will be dependant of your market and you will have to test this, but we recommend you aim to post at least every week on the topics most relevant for your target audience (as found in your keyword analysis).
Research has shown that companies who published 16+ blog posts per month got almost 3.5 times more traffic than companies that published zero to four monthly posts. (Source)
If you do find time and resources, blogs are also beneficial to SEO, as your website will receive fresh content and be indexed for new keywords. Make sure you focus on quality over quantity and read through our blog post on writing persuasive marketing content for your website and marketing materials.
Once your website is up and running, it is not done. Website work should never be done, as you should continuously aim to optimise it and add fresh content, which is also beneficial for SEO.
Consider adding pictures from your events, videos, testimonials, blog posts, new sections. Understand how visitors are using your website, what they're clicking on, what areas they are engaging with and test continuously.
Performance indicators for event websites
Make sure you analyse performance on your website and individual landing pages. Google Analytics will give you valuable insight and you should look for any Year-on-Year comparison or weekly/monthly comparisons of:
Number of website visits and visitors (if a person visits your website 5 times, they will be counted as 1 visitor and 5 visits)
Time spent on each page
Exit pages
Bounce rate
Traffic sources – channels
Geographical location
Events, if you have these set up (like playing a video or filling in a form – find out more here)
Conversions – we recommend you set these up
Any other metric that will be relevant for your eventConversions – we recommend you set this up
You can also use tools that help you understand who visits your website (like Leadfeeder) or how visitors are behaving on your website, where they're clicking and where they're looking (like Hotjar).
Key takeaways: Create an event website that gives visitors the information they need about the event and makes them convert to registrations. Ensure your website is easy to find by using keyword research and optimising it for search engines.
Anything missing from this chapter? Let us know in the comment section!
If you're interested in The B2B Event Marketing Guide, fill in the form below to download it: