How to win customers by attending on-site B2B events
A practical guide on how to get more leads and convert them to clients by attending physical events
Introducing events in your marketing mix?
The pressure is on to do more with less. Among budget cuts and lay offs, sales targets have rarely changed. B2B companies in all industries are looking for ways to generate more revenue, in a cost effective way.
And what better way than to meet your future customers face to face than a physical event? Whether as an attendee, a speaker or an exhibitor, the benefits of joining a B2B event are considerable.
However, in order to attend these meetings, you need to invest budget, which can sometimes be considerable. How do you make sure it is spent in the best way possible?
Having all this in mind, we've put together the guide to Winning More Customers from On-site B2B Events.
If your company is just starting out on its path to attend external events, this guide is for you. It will help you:
1. Decide what is the best way to attend – as a participant, exhibitor or speaker;
2. Give you a check list of activities to do before, during and after the event;
3. Present example of messages and brand activations you can use;
4. Offer practical tips on increasing leads whilst attending events and getting more conversion after the events;
5. Ensure you get the best ROI on your event attendance budget.
Even if you have attended events before, the guide is developed to help you get increase ROI and number of leads from attending external events, organised by companies outside your own.
Small and medium-enterprises' executives exploring attending external events for the first few times
Business owners, marketing directors and sales directors looking to increase lead generation from external events
Business development executives searching for better outcomes from event attendance and sponsoring
Main benefits of attending B2B events
How to find the best industry events
How to choose the right events to attend
Participant vs exhibitor vs speaker?

Attending as a participant – getting ready list
Attending as an exhibitor – Booth activation ideas and getting ready list
Attending as a speaker – How to choose the topic and getting ready list

Templates for communication related to event attendance
Draft budget and ROI 
If you're looking to grow your business through B2B events, I can't recommend this guide and the authors behind it enough.

The guide was incredibly comprehensive, covering everything from pre-event planning to post-event follow-up strategies, and was filled with practical tips and advice that I was able to immediately put into practice.


This guide was incredibly comprehensive and easy to understand, and provided me with all the tools and strategies I needed to succeed at my next event. I especially appreciated the emphasis on pre-event planning and post-event follow-up, which helped me to maximize my ROI and turn leads into paying customers.

I felt like I had a true partner in my B2B event journey, and that made all the difference. I would highly recommend this guide to anyone looking to make the most of their B2B event experience!"
I speed read the guide and then started over, more slowly, and took notes. It made me realise we were postponing going to events because we lacked this type of insights.

After going through the guide, we received clarity on what we need to do and what are the first steps we need to take in order to increase lead generation from events. We've already attended our first event after reading the guide and we're seeing new sales opportunities - the new ideas really made a difference!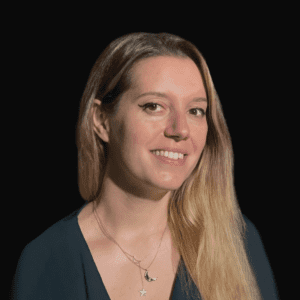 I am Raluca Apostol and since 2011 I have been working in hundreds of events.

From concerts to trade shows, from meet-ups to conferences, from hundreds to tens of thousands of attendees, I tested them all before settling on B2B event marketing.
And I am Andreea Sava and I have been working in the events industry for almost a decade.

I have organized and coordinated more than 500 social and corporate events, large and small, national and international. I love to use my best skills in every stage of planning and am
always willing to put in the extra hours to make sure every event is successfully executed.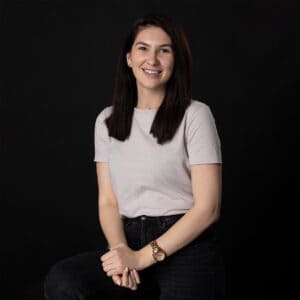 Download the practical guide to "How to win customers by attending on-site B2B events" for just €24.99

(limited time offer, reduced from €79.99)​