Ask any marketer and they'll tell you the same thing: there is no miracle formula for the best performing marketing strategy. Each industry, sector and target audience has its own specifics, so the key is to track, test and optimise.
However, there are 3 key areas that absolutely every pro marketer nails down to the details: website, personas and lead stages (the last one being especially important for B2B companies). These set up a campaign to success and are the basis for obtaining the best KPIs and conversion rates.
Website – your visitors should know what to do
In this digital world, your website is your online business card and it's not called a web-site for nothing. It really is your business site and you should treat it with the same care you would treat your offline site. When visitors walk in, you want them to:

1. find what they need quickly
2. get easy access to personalised information or a quick way to get in touch
3. be amazed
First of all, your website should have a goal in mind, clear to both you and your visitors. The objectives could be to offer information, engagement, generate leads or a combination of these (most frequently). Your aim is to understand what each section is aiming to achieve and how well it is performing, so you can optimise your website as per your marketing strategy results.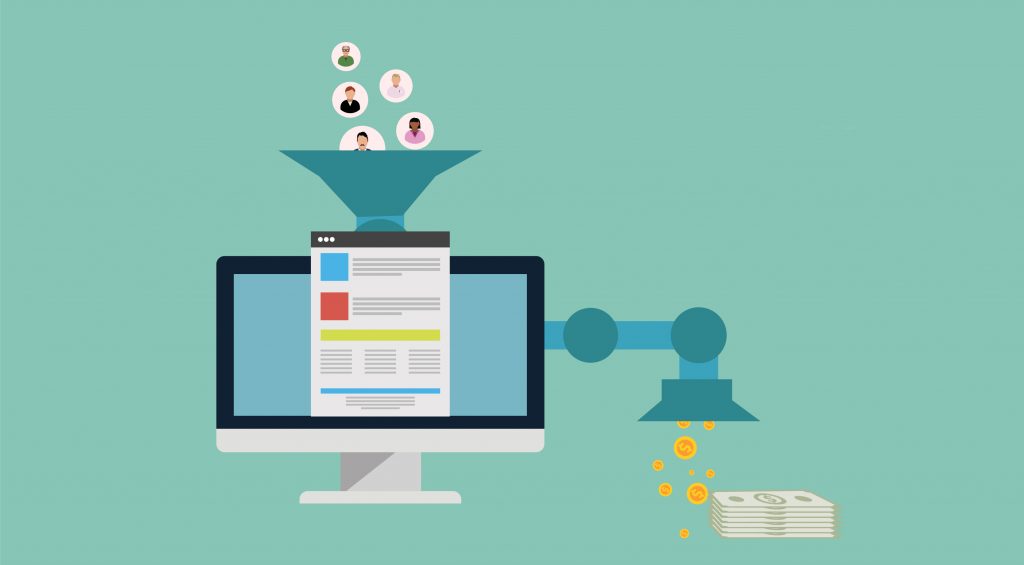 My experience has shown that companies have started with a simple website that matched their initial objectives. Then, they've started added pages and blogs and images and new sections that makes the initial objective get lost between a pile of things that are no longer related to each other. This is why it's useful to take a step back every once in a while and review that your website is still the best business card you could be presenting.
Further reading: We've written on optimising websites and landing pages for events here
No marketing strategy would be complete without tracking and analysis. Luckily, there are many tools that can help you understand how users are interacting with your website, so you can optimise their experience based on this input. Google Analytics gives you basic info about profile of visitors, the content they access, time spent on website, traffic sources and more. This can become the basis of your analysis.
Moving forward, Hotjar helps create heatmaps and recordings of how users use your website, how they scroll and where they click. The information can be better structured through creating landing pages and you don't need to be a dev wiz thanks to solutions like Instapage, designed with a drag and drop editor.
Tools like Optinmonster can run exit intention pop-ups that add a special offer for your user or even a survey to evaluate if they've found what they needed on your website. Then, providers like Botsify offer bots that help visitors get instant answers to some standard questions. (these are just some examples of providers, there is a wide variety of them, offering less or more features).
You also want the flow of the website to run smoothly, taking users from one page to another based on the content that would be most relevant to them and all leading to your objective, be it lead generation, nurturing or generating awareness. Since your website is the landing point of all marketing activity (offline and online), improving its results will lead to better results from your strategy.
So how do marketing pros improve their strategies with websites? They constantly review results from the website, test and optimise. They create landing pages with tailored information for each customer segment (more on this below) and ensure the best user experience online, that will increase conversion rates.
Personas – have a clear understanding of prospect's profiles
Personas are representations of your desired segments and can include information such as interests, location, age or in the case of B2B services: job title, industry, function, company size and others.
These representations create profiles of your target audience and helps you highlight what your prospects are interested in, what they're struggling with and how can your services or products help them. They form the basis of the audience part of your marketing strategy.
In my experience, most times people think they know who their personas are, but have no clue. If you ask a sales or marketing director who are the decision makers for the services they're offering, they'll tell you a few job titles, maybe some they've personally interacted with.
Sometimes, they might event include a list of desired job titles, that has no connection to reality. This doesn't mean that you shouldn't trust your team, but that you should double up their findings with research.
What does your sales pipeline tell you about your customers in terms of job titles, departments and decision making authority? What sort of services are they interested in and can you create a pattern? Who are your (desired) biggest spenders and what are the characteristics that make them unique?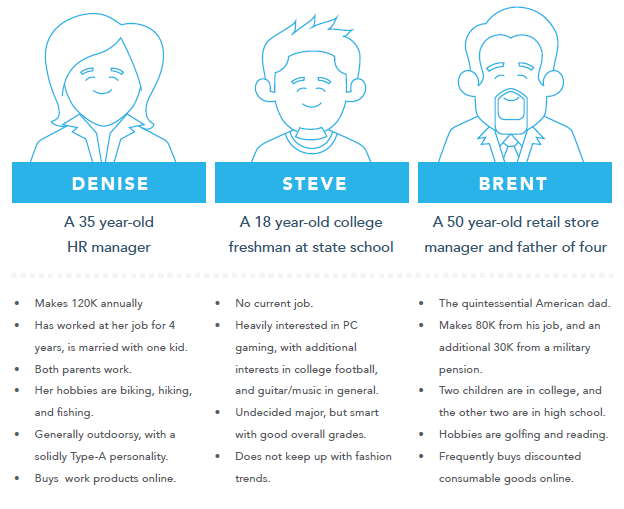 Further reading: We've written on data & increasing databases here
You should aim to get 3-4 personas for your business. Knowing your prospects better helps make better marketing decisions, in terms of type of content to create, channels to target them on and even incentives they will appreciate more. Plus, here is some further reading into creating customer personas from Hubspot.
Why create marketing personas? Because all your messaging, content, channels, strategy and budgets can then be allocated according to data and personas provide you that insight. You will be able to identify your biggest spenders and design a tailored interaction for them, increasing conversion rates and revenue per lead. Plus, information based decisions can help reveal new streams and opportunities.
So how do marketing pros improve their strategies with personas? They develop messaging, content, channels and budgets tailored for the customer profile and the results they can expect to get. Personas validate their marketing decisions and offers a better understanding of prospects.
Lead stage – talk to prospects in a way that makes sense to them
Once you have your personas in place, you should also understand what lead stage each of them are and what their interest is. Consider these prospects:

– Company A has never invested in the solution you're offering and they don't know what features they need or where to start in prospecting vendors
– Company B has extensive experience with similar solutions to what you're offering. They're already a customer of your competitor, but they're considering switching to a new vendor and want to understand how your offering is different and who recommends you
– Company C is your customer and would like to understand more about upgrades and recently added features they can use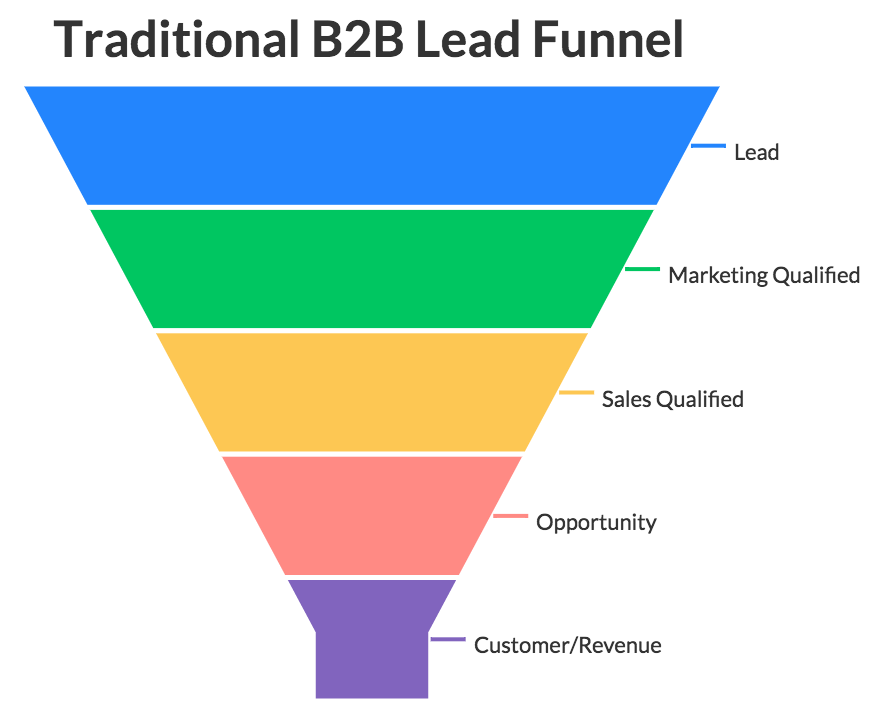 Based on the stages above, the content, marketing strategy and channels you prepare for each one should be different. For example, Company A may be Googling random stuff that is related to your industry (like digital marketing strategy), but not your services, specifically (SEO agency). So, your strategy should take this into account to create content and messaging that addresses beginners, assuming limited to none previous knowledge.
Further reading: We've also written on lead strategy here
For Company A, the content should be general, addressing what are the benefits of your services for businesses, what types of results your offering can help generate, industry stats, etc. Since this is not immediately linked to your company, we recommend you include limited branding on this type of information. Being on your blog or social accounts should provide the necessary branding at this point.
Company B has more info into the industry and offerings similar to yours and the best way to target them is to use technology to determine which leads are more likely to convert and target them in a different way. For example, the content and messaging you are creating should be more advanced and address things like features, perhaps even technical matters. It should also focus on USPs and aim to set your company apart from competitors, highlighting values and the brand personality.
Mind you, Company C is also a prospect, though some marketing strategies tend to overlook them. Your marketing strategy shouldn't be focused exclusively on attracting new customers, but also considering the gains from keeping your current customers happy. And why not, getting some extra revenue, since they're pleased with what you're offering by showcasing use cases, upgrades and extra features they can access. Ultimately, the goal of marketing to Company C is increasing both customer lifetime value and recommendations.
So how do marketing pros improve their strategies with lead stages? They have a clear understanding of the marketing funnel and can predict future revenues and demand. They know what the best strategies for each stage are and where their efforts should be invested for best results.
Whilst these changes aren't easy, they all start with a simple step: start doing. Choose one part of it and work on it for 15 minutes. Then 30, then a bit more, until you have a version you're happy to test. Once you see results, you'll know what to do next and things are becoming easier. And if you're looking for help, we're here when you need support.