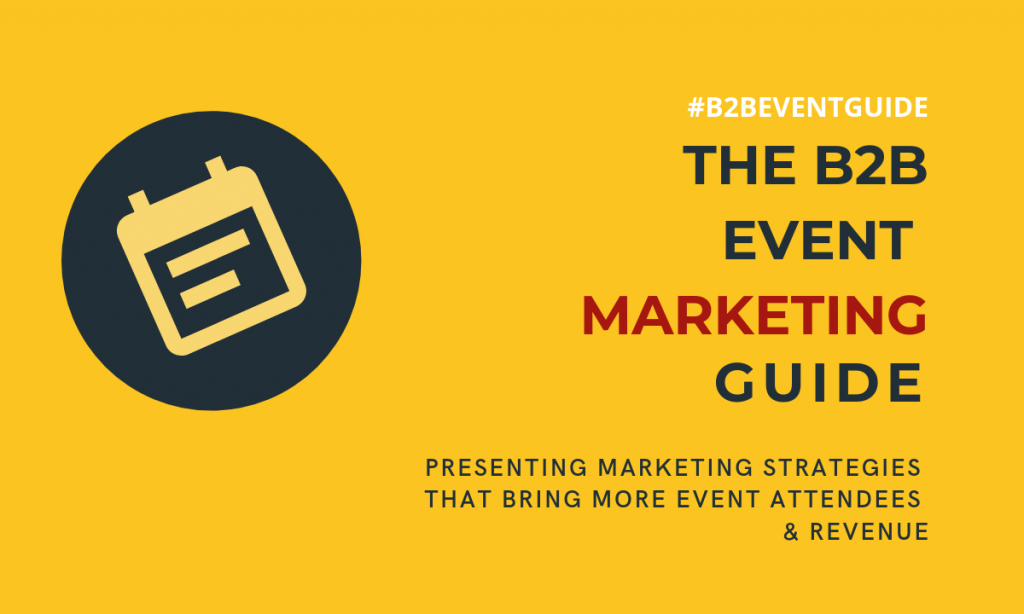 One of the million dollar questions in event marketing is "how do you attract attendees". To try and answer it, we've created The B2B Event Marketing Guide, a 15 chapters report on the full marketing strategy and planning process that goes behind a business event.
The article below is an excerpt from the guide. Find the other chapters here.
In this chapter: The anatomy of a good email marketing strategy, using segmentation and targeting for enhanced results. How you develop the content, structure & design of emails. Getting the subject lines and timing right. Reviewing performance indicators for email marketing.
Email marketing is a big channel for B2B marketers, with 86% of professionals saying they prefer to use email when communicating for business purposes (Source). However, since email is being used for day-to-day activity by business professionals, any distractions coming from companies marketing their services and events must ensure it is relevant for each sender, to avoid unsubscribes and complaints. Frequency is also very important, with 78% of consumers saying they have unsubscribed from emails because a brand was sending too many emails (Source).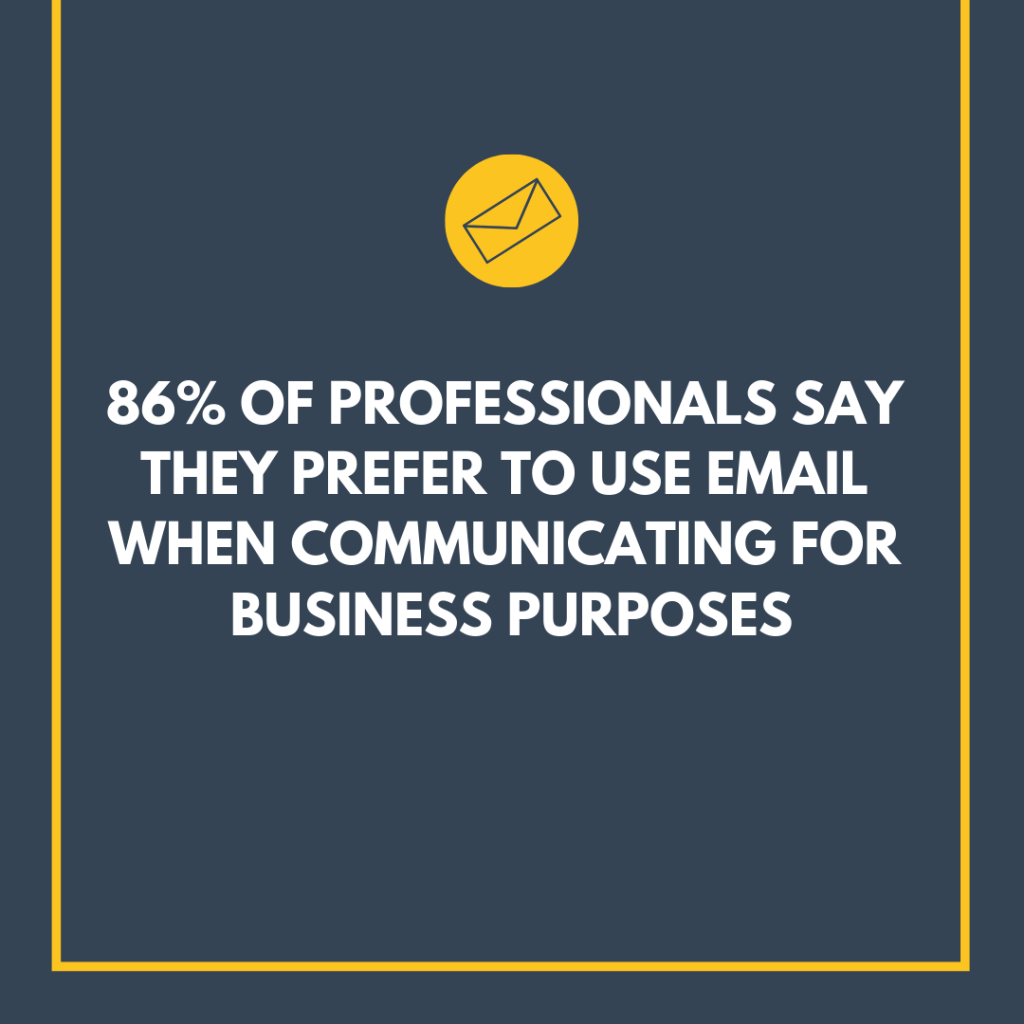 Email has been claimed dead for a while now, but the truth is it is still one of the main channels being used in event marketing. However, the era of mass emailing is dead, especially with the amount of content we can now access for the contacts in our database.
A study from 2016 shows that 83% of companies use at least basic segmentation for their emails (Source).
Email marketing strategy for event marketing
Every email marketing strategy should include:

– An overview of the database structure and segments
– A plan containing content and frequency for each segment
And as the Bundy Family jingle said, you can't have one without the other. Firstly, you need to understand who is in your database, which we've discussed earlier in our data section. This, however, is an ongoing process, which needs to be reviewed continuously by tracking who opens and who clicks on emails. If software providers are your main targets, but they're not engaging with your newsletters, you'll need to revisit the content plan and review the data again.
With all the technology available for marketing executives and all the data we have on our prospects, we can now determine with a high level of accuracy what a customer wants and when he wants it.
Based on personas, website activity, social listening, ABM and other similar tools, we can segment and target the data with information relevant to their interests. This will keep leads engaged and more likely to interact with your content, your event and your brand, knowing that there is something relevant for them when they open that email or click on that ad.
According to DMA, marketers have found a 760% increase in email revenue from segmented campaigns and according to Experian, emails with personalized subject lines are 26% more likely to be opened. Personalisation can include addressing the contact by their name (through a Hello John at the beginning of the email) or including their company name in the content. Furthermore, segmentation includes developing content specific to their industry, job title, job function or interest expressed in a subscribe form, for example.
Segmentation can take place at the beginning of the campaign, through sending different campaigns to different segments or after a mass campaign has been sent. Here is an example flow of segmentation based on email activity: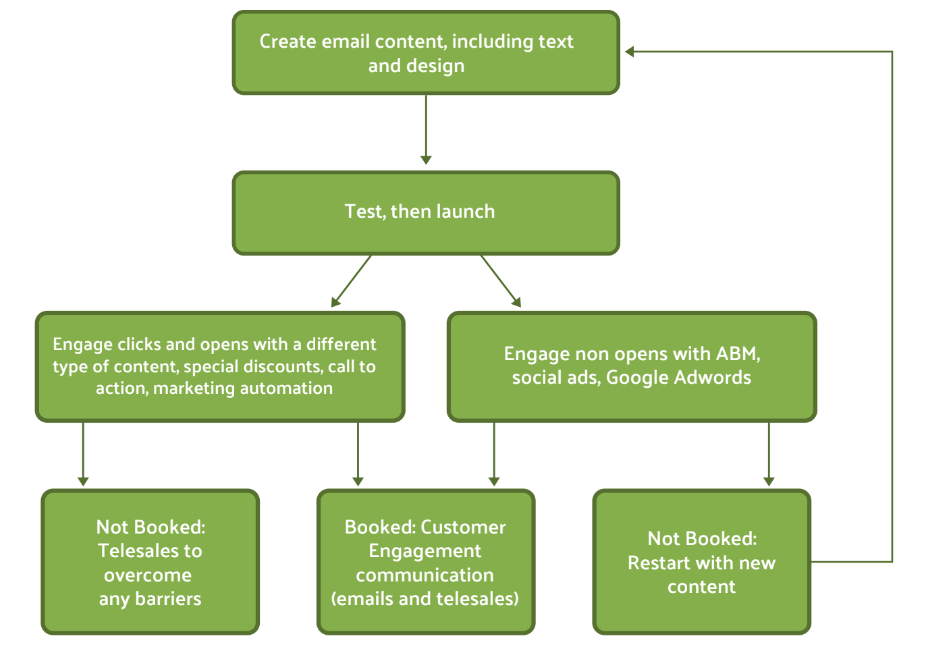 This is a simple flow and lead scoring will also be considered in this flow, to ensure telesales will only target the most engaged leads, after multiple touch points with the contacts. We address customer engagement separately.
Email content to help event promotion
Each email should include the date, location and a call to action, which usually will be the link to register. You can also have multiple calls to action, that encourages people to browse the agenda, the speakers, the list of attendees, enquire about discounts or sponsorship packages.
Make sure your website is optimised to capture these leads and to make them transition to becoming a client.
In our experience, we try to include as much content as we can in each email and this will include interviews, blog posts, videos or testimonials from previous events. No one wants to open emails that bombards them with messages to book now, so make sure you also offer value throughout your campaigns. Your content should also be persuasive and this includes writing benefits, not features and we've discussed this in our blog post here.
Some content will be relevant for several segments, whilst other will only address some of them and this is where your segmentation will help by deciding which emails will be sent to whom.
Here's an example of content strategy, tailored for segments:

Top industry 1 and 2 will be the any representatives of industries you've identified as top spenders. The segmentation can be done on job titles or functions, but the idea of the segmentation will remain the same.
In the example above, speaker interview can have one message that is sent to all 5 segments, perhaps only tailoring the call to action. The Why attend email will have different reasonings for all paid delegates, for top industry 1 and 2, VIPs and sales leads. The list of attendees can be relevant for all paid delegates, but have a different messaging for sales leads.
You might want to create tailored content for your top attending industries too. Then, top speakers can be different based on each segment or can be similar, if there are speakers all your segments want to hear from.
Another question you need to ask is creating a beautifully designed email versus limited design versus plain text. Your aim ultimately is to get people to register via an email that is functional across all devices. There are multiple email software you can use to design emails, such as Constant Contact, Mailchimp, Hubspot, each with their own benefits, features and budgets. Here is a review on email marketing software and a few tips and tricks on email design.
Getting the final details right: subject lines & timing
You've created a great email design and crafted amazing content. You have segmented your database and have 2 more things to consider: subject lines and when you send your campaign.
Subject lines and who the email is sent from are the first interaction point with your email.
This will have a powerful impact on open rates, with 35% of email recipients saying they open emails based on subject lines alone (source). They should navigate the fine line between interesting subject lines that makes you click and a spam-y message that makes you want to unsubscribe/report as spam.
In terms of the best day and hour to send emails, there are a few existing reports mapping this out. Here's what CoSchedule have found: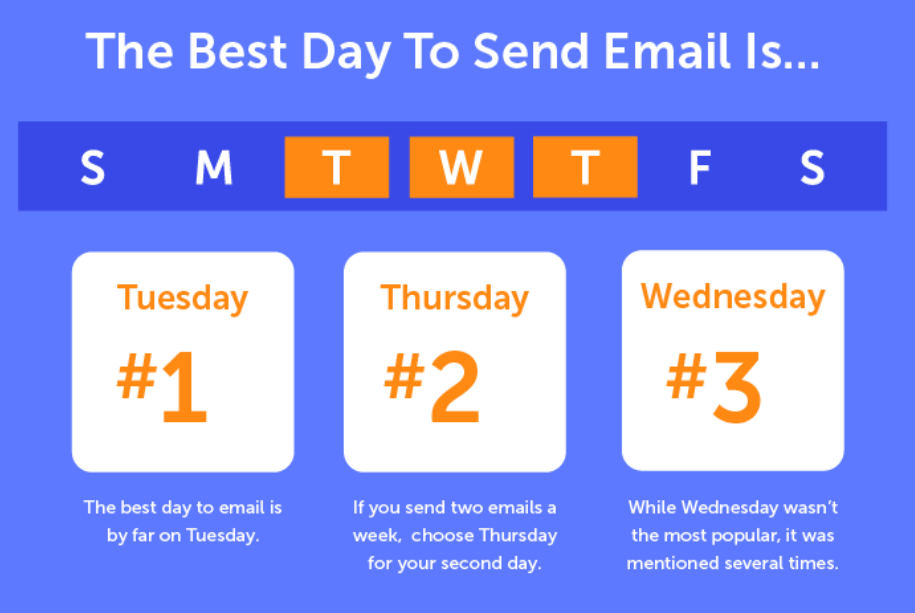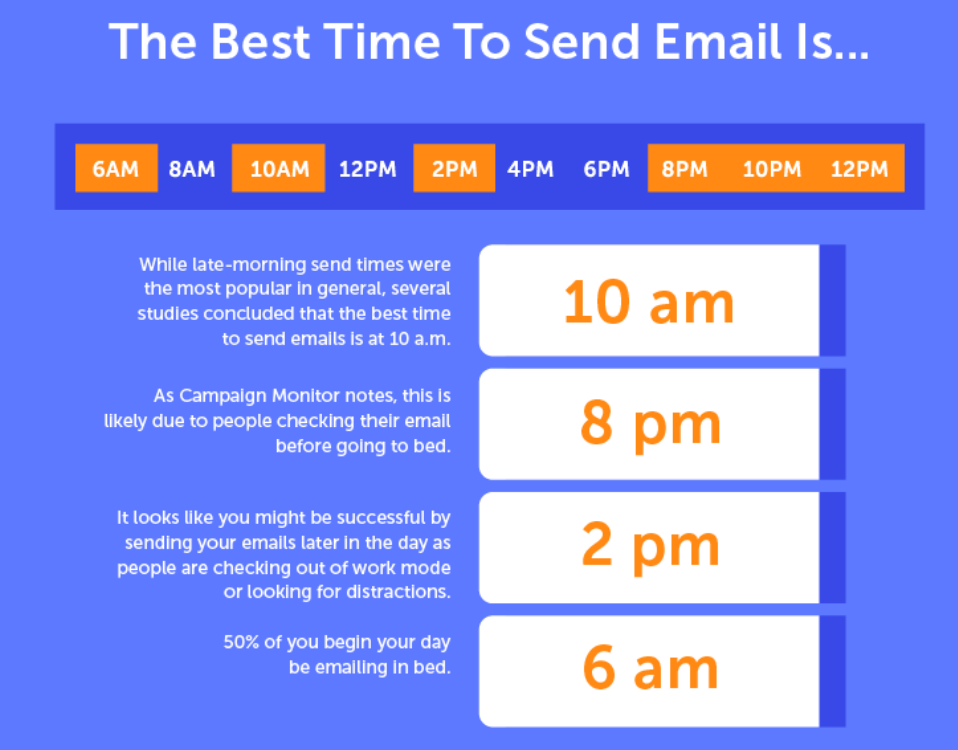 We recommend testing, rather than taking anything for granted. Your industry might have specific times and days that work best for them and you will be able to look at results after sending several emails at multiple days and times, then analysing results.
Performance indicators for email marketing
Ultimately, you need to ensure you track results of your email campaigns, which will include:
1) Email deliverability
a) Deliverability rate
b) Open rate
2) Email content
a) Click rate
b) Share/forward
3) Conversion rates
a) Event registrations
b) Replies to emails
There are reports that provide industry benchmarks for open rates and click rates, so you know which objectives you should be aiming for. Here's a report from Mailchimp from March 2018. You will be able to track the performance indicators above using your email software and can improve results through continuous testing. Here are a few examples of what you can test:
– Sender – company name vs person's name
– Subject lines – shorter vs longer, emojis vs no emojis, include first name vs not including it, promote deadlines in subject lines vs not using them
– Click rates – using the same call to action multiple times vs one time, using multiple call to actions vs only one call to action, using links on words vs buttons
– Conversions – using urgency, using counters, sharing attendee lists in emails, sharing speaker images vs names & job titles
You can prepare your email for success by improving email deliverability using these tips here. Plus, if you're lacking inspiration, Campaign Monitor has put together a top of email marketing campaigns, including a selection on events.
Here's an article from Option Monster on measuring results for email marketing.
Key takeaways: Build an email marketing plan that is aligned with your marketing objectives, addressing all your customer targets. Make sure your emails are informational, filled with content and are always relevant for your target audience.
What is your best performing strategy for email marketing? Let us know in the comment section below.
If you're interested in The B2B Event Marketing Guide, fill in the form below to download it: