You are probably here because you came across a mystical challenge: the marketing vocabulary! No worries, we are here to take you through the first three levels of this wonderland: The basics, Tools, Results and Help. No more time to lose, let's dive in!
The Basics
Leads = a marketing lead is someone who shows an interest in what you are selling (it can be a product, a service, an event, a conference). A lead is an indicator of how interesting the company is to someone. Marketers work on generating leads – the process of attracting potential clients to the business.
Example: You have a contact form on your website. People who reach out to find out more about your services by filling in the form are considered leads.
B2B/B2C = Business to business /business to consumer. It is quite self explanatory: the commercial transaction is being made from a business to another business, or, it is made to a client. In business to business, your clients are other companies. In business to consumer, your clients are individuals, be they employees or not. When talking about marketing approaches, there's a lot of talk about the differences (and similarities) between B2B and B2C marketing. Some say the tactics differ greatly, others say that in the end you sell to people, so B2B isn't that different to B2C.
Exemple: You are a coaching business and you provide courses for other businesses' teams – B2B vs. You provide courses for individuals or you sell fizzy drinks to the end consumers- B2C.
Lead funnel = the stages a lead goes until it converts. It is visually represented as a funnel and it goes from raising awareness (in which a potential customer turns from a stranger to a visitor – to your website, social media account, physical store, etc), then they convert to leads (explained above, by making an action to share their details with you or by showing interest in your offering) and ultimately closes by becoming a client (when they actually buy from you). From a client they can become an advocate and recommend the product or service to their group of friends or acquaintances. We use the funnel in order to know which tactics and calls to actions to use on which stage, so that they fit the client's current need perfectly.
Example: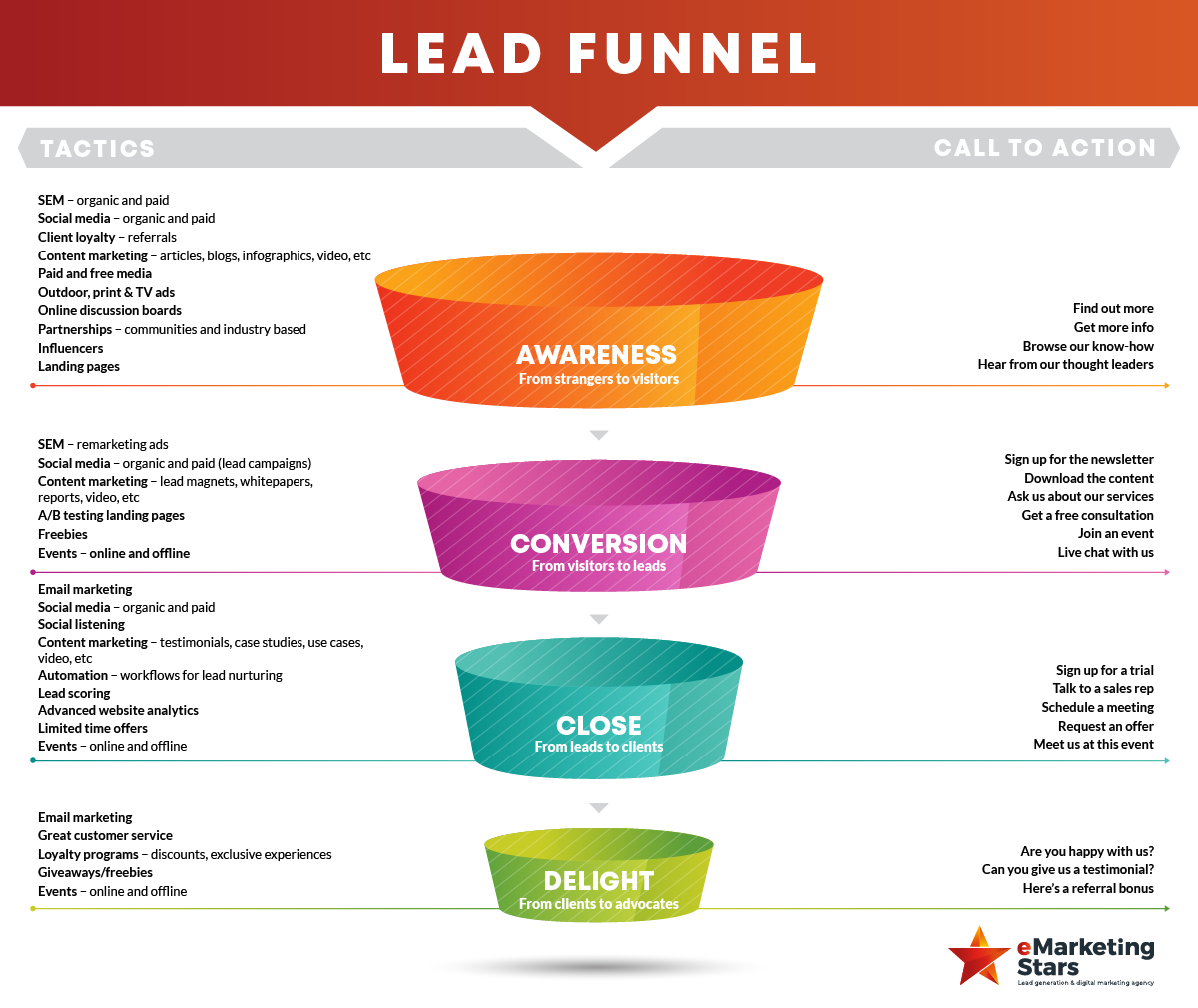 Lead nurturing = the process of developing and maintaining a relationship with your lead (potential customer) at every stage of the leads funnel. This can be done by sending them e-mails, newsletters, inviting them to your events, sending them a free template to download etc.
Online/offline marketing = different products or services need different marketing approaches and channels. Online marketing is the type of marketing channel you see on the Internet, which targets a specific segment of people (those that use their devices daily, for example). Is a form of marketing tool, used only on the Internet.
Offline marketing is done through what some call traditional channels: flyers, billboards, TV, radio and other channels that don't use the internet. Online & offline marketing can go hand in hand, communicating to the same or different people, in different situations and with different impact.
Example: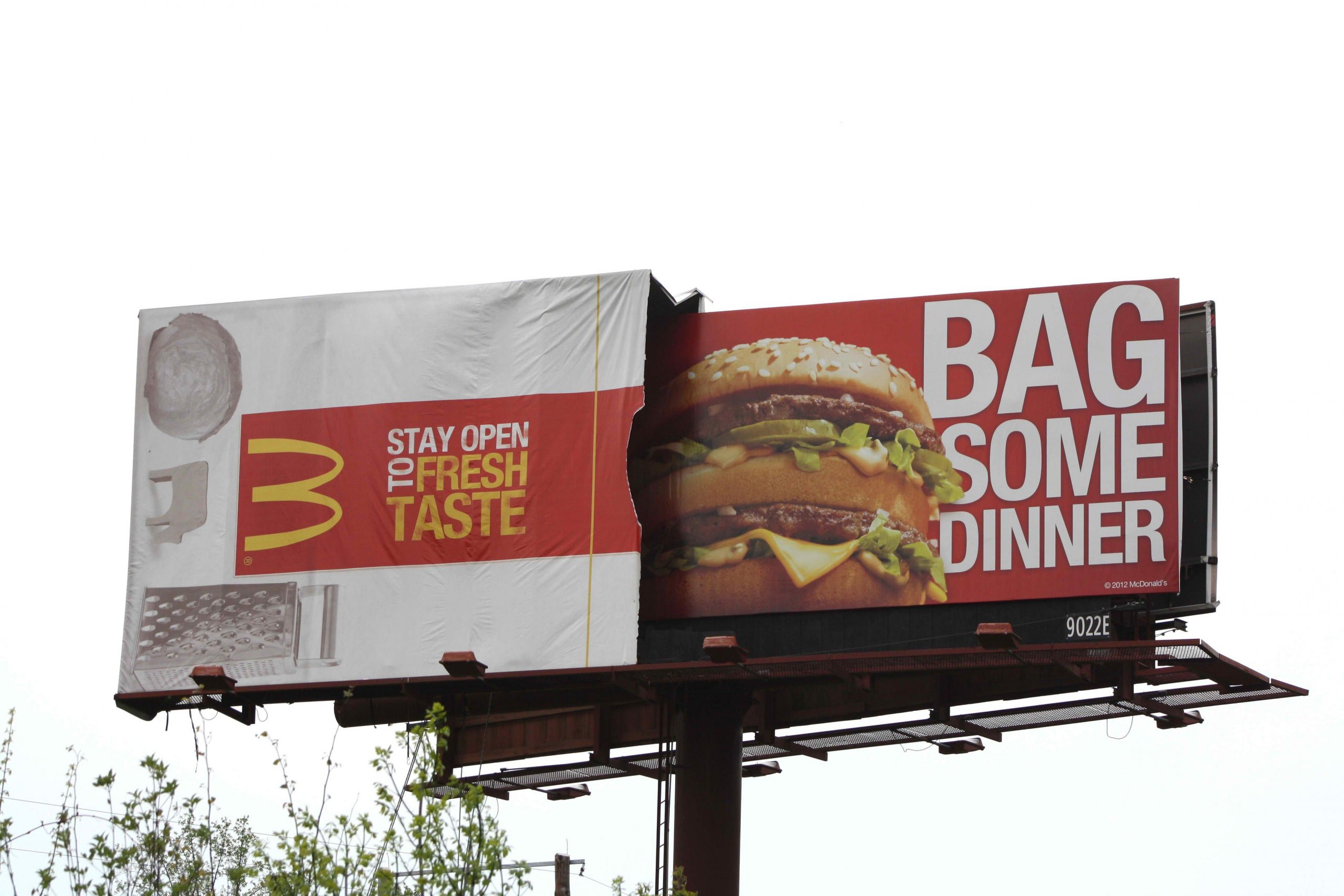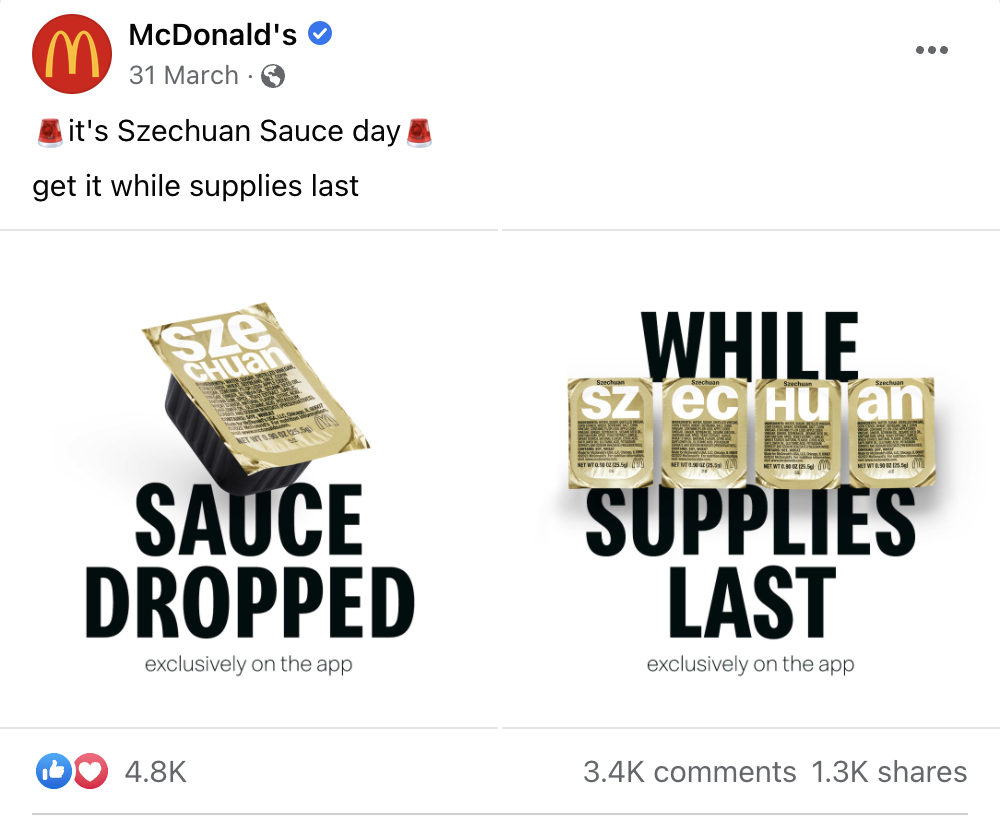 Sources: Pinterest/Facebook
Customer persona = avatars representing segments of your target audience. By creating them, you get a better understanding of who your customers are and what their interests are, giving you the chance to tailor your marketing and sales strategy.
Information included in marketing personas can range from more general ones such as geography (region), industry, department to more specific ones such as role in decision making, business values, personal motivations, etc.

Example: You can read more about customer personas here.
Tools
Owned media = everything you have as a brand: a blog, social media channels, a website. This is a channel in which you control the messaging.
Earned media = anything you gain organically, through sharing, mentions and referrals. This can be generated by press, influencers, speakers, sponsors, attendees, employees, etc. Anyone talking about your event without being paid to do it will come under earned media and this gives you less control over the messages they deliver.
Paid media = can be split into 2 big categories: traditional media and digital media. Traditional media is advertising on TV, radio, newspapers, magazines, radio and outdoor (billboards, banners, etc), whilst digital media would be paid ads (Google, Bing, etc), social ads (Facebook, LinkedIn, Twitter, Reddit, etc). For both categories, you gain exposure only when you pay.
PPC = Pay per click. It means that you set up an ad on a platform (Google, Youtube, Facebook, someone's blog etc) and and you pay a fee each time the ad is clicked.
Social listening = analyzing what happens around your industry or brand in terms of trends, conversations, topics, competitors, keywords etc. This helps you deliver tailored messages, that better address your audience. Plus, you will respond in time to whatever hot topic your audience engages with.
Example of tools for social listening: Mention.com, Sprout, Hootsuite, etc.
ABM = Account-based marketing. It is a B2B (see? You already know what that means!) strategy that focuses on finding the right accounts for the business and turning them into customers. This is usually done with the marketing and sales team working together. It is a personalized tactic that leads to a more tailored marketing approach, helping each lead feel unique and addressing their specific problems that your services or products can solve.
Example of tools for ABM: Leadfeeder, Zoominfo, Marketo, Demand Base, etc.

Lead Magnet = a free item or service you give to your potential customer in exchange for their contact details. This way, you will gain more contacts in your database and start nurturing them till they become customers.
Example: A free guide/audiobook/trial/newsletter they can receive if they register.
Results
After knowing the strategy tools, how can you achieve and measure the results?
CTA = call to action. It is a phrase, or a button you insert in your marketing communication where you tell people what to do next. It can be a "learn more", "sign up now", "buy now" etc. In this way you nudge people to interact with you by giving them an exact next step.
Conversion = the action through which people who engage with your business "convert" to a lead (again, you already know this) or to become the buyer of a product or service.
Example: Someone who filled in a form on your website or bought something from your store.
KPI = Key Performance Indicator. It is a value that shows the effectiveness of your business. This is based on the marketing channels and strategies you're using and the objectives your business has.
For example, if you're looking to increase sales through marketing, a KPI could be how many sales-ready leads do you generate, how many people book a sales call or add an item to the cart. Online and offline marketing have different KPIs you can use to track their results.
ROI = Return of Investment. It is a mathematical formula you can use to find the ratio between the income and the investment made to generate that income. For example, if you spend 5 dollars on online advertising and get 1 client from it that pays 10 dollars for a product, your ROI is 10/5*100=200%. This way you can analyze your investment and how well it has performed in terms of gaining a return of it.
ROAS = Return of Advertising Spend. It targets the efficiency of a digital campaign in terms of the amount of money your business earns for every $ 1 spent on advertising. It is calculated as in the example above, but whilst ROI can be calculated for any type of investment, ROAS is only calculated for ad spend.
Help
You know the name and definition of all those tactics, metrics and concepts, but you realize you need some help with implementing and using them. Who can help?
Marketing agency = A company, or a group of people who can help you with advertising, digital strategy, lead generation, lead nurturing, marketing events and many other areas. A marketing agency has several important goals: increase brand awareness, generate leads, get them to convert, grow social media and offline presence, increase traffic on the website pages you need, following strategy goals, and others.
Example:
Freelancer = an independent person who is self-employed and has multiple clients, providing specific services. Working with a freelancer can be best when you have a short-term project or when your needs would not amount to a full time role. Alternatively, they can provide services you might only need once in a while like, let's say a logo, or a banner.
Example: You can hire a freelancer to help you with writing articles on your brand's blog, once per month.
Marketing team = a group of people who develop and implement strategies in order to achieve specific goals. The team can be internal, made out of people already in the company, external, an agency's team or both: an external person who can work with your existing team. Hiring a marketing team is best when you have long term needs, that cover fill time roles.
You can read more about marketing teams for small businesses here.
In conclusion, we hope this list of the most important and frequently used words from the marketing sphere will help you understand better what you need to do and how to do it. Don't get overwhelmed, once you understand the basics, things will get easier. And, when you are feeling lost, you can always return to this article.
Good luck!
About the author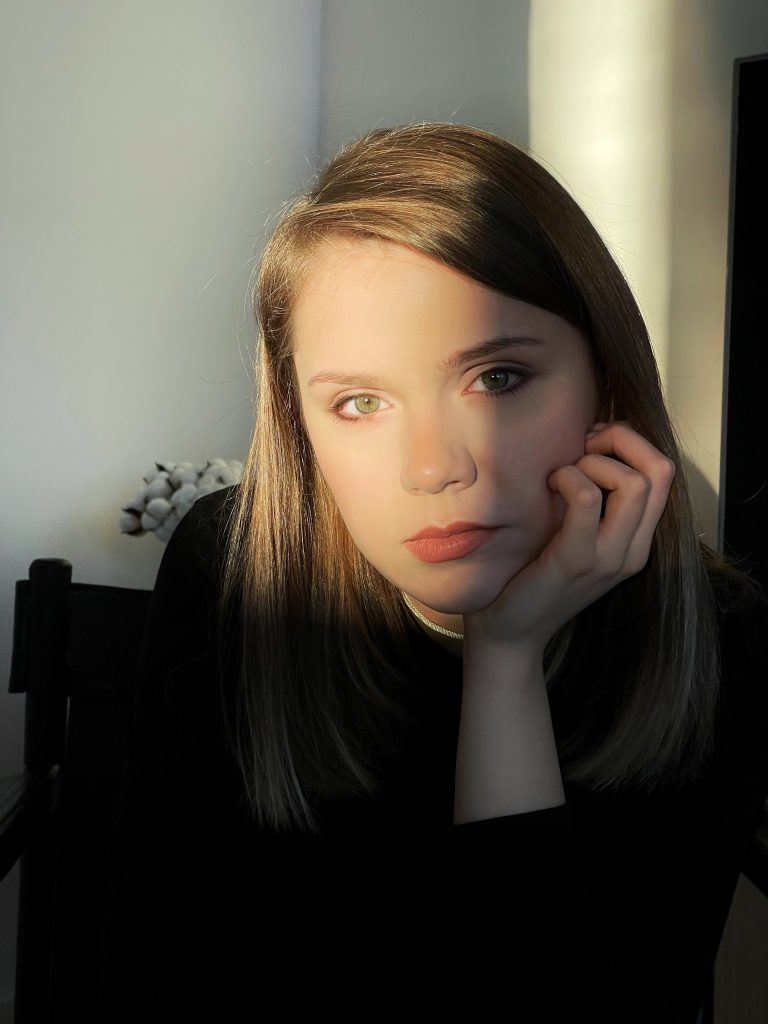 I am Diana Slabu, content marketer with a background in anthropology. With my anthropologist's glasses on and my dog by my side, I try to see the world and society in its complexity and particularity.
I am responsible for the social media posts, fun stories and easy to read texts in the B2C education clients world.
If you want to reach out, you can find me on LinkedIn here.