Sometimes, the big companies have it good, don't they? They have the data, the money and the resources to do what they want. Inevitably, at some point in your marketing life, you end up envying them. There they are doing it all while you have to base your decisions on hunch rather than historical data.
So, what can the rest of us do? Hope for the best but prepare for the worse? No, we can be better. When you're just starting out (your business, marketing strategy or using a new tool), you can build on something other than gut. Let's check out the beginner's guide to build marketing personas with no (previous) data.


What are customer personas
Customer personas are avatars representing segments of your target audience. By creating them, you get a better understanding of who your customers are and what their interests are, giving you the chance to tailor your marketing and sales strategy.
Information included in marketing personas can range from more general ones such as geography (region), industry, department to more specific ones such as role in decision making, business values, personal motivations, etc.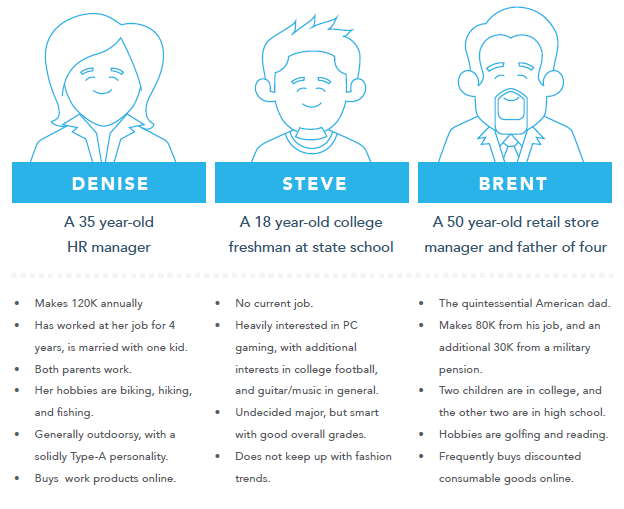 Why build customer personas
Customer personas reply to the questions "who are we targeting" and "what are they interested in". As you get more and more leads and clients, it will be hard to know each and everyone of them. That is where customer personas come in handy, making it easier to understand your customers. And personalise for them.
The data also tells us personalisation is the right way to go:
42% more visitors convert from personalised call to actions than those that receive unpersonalised (Hubspot)
22% more open rates are achieved from personalised subject lines (WPForms)
760% increase in email revenue resulted from segmented campaigns (DMA)
For marketers, it helps tailor content, ads and the outreach strategy, ultimately leading to more leads and higher conversion rates. But customer personas can do more than that. They will also be relevant for other departments in your business, such as product development, sales and finance, by helping them make data-based decisions.


How are customer personas built where there is data
Before we look at how we build customer personas without data, let's see what the luckier ones are doing (you guessed it, those who have data).
CRMs are a great place for customer data which can lead to personas. Contact data, email data, sales data and others helps identify segments with similar interests and features.
Even if you're just starting out, I'd recommend all B2B companies, regardless of size, start using a CRM. Hubspot has a free version for up to 2,000 contacts.
The sales team has valuable input from customer interactions. The more they have spent talking and meeting clients, the more info they'll be able to offer about them. This will also highlight different segments, based on when and how the sales team adapts their pitch/presentation.
Surveys and interviews with existing clients offer you recent overview of their needs and profiles. They can then be clustered based on common interests, goal or characteristics.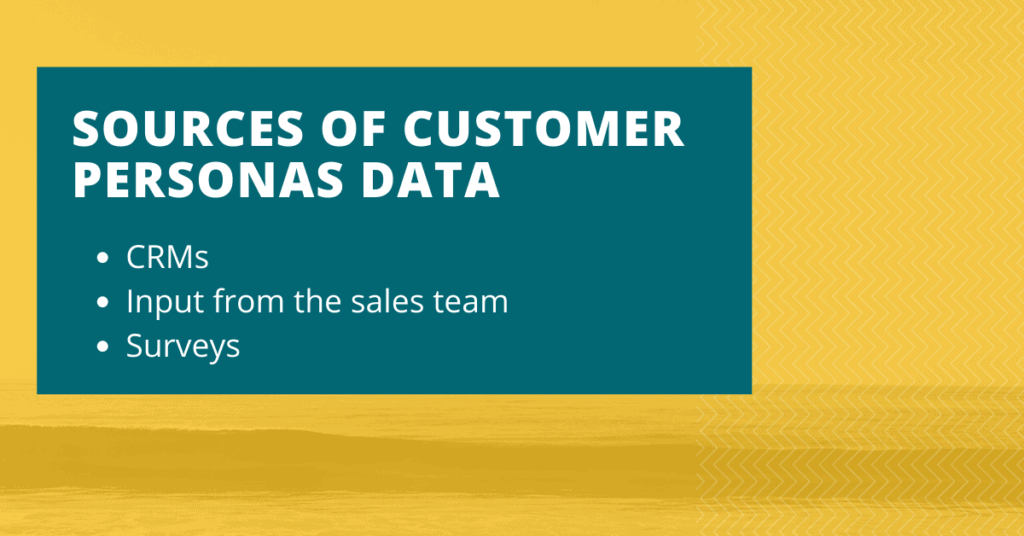 Once you have the data, you work at identifying patterns in segments large enough to be representative. That will then represent the backbone of the customer personas. How many you have depends on how much data you collect and how relevant this will be to your activity. If you or your sales team wouldn't do personalised outreach to them, they're probably not a separate customer persona, but can be placed in the "others" segment.


How to create customer personas when you don't have data
If you haven't collected data before or are a start-up, it's fine. You can still build accurate customer personas without having to wait months or years to gather data. Start with these sources.
Talk to the person responsible for sales about the people. Who are they planning to target? Who are the decision makers and influencers? Are they all from the same department or does this change based on industry or company size?
Talk to the person responsible for sales about the content of their presentation. When do they tailor the sales pitch? What is this based on – seniority level, department, industry? When does the presentation stay the same?
Look at your website traffic. If you've already launched your website, the data from Analytics and contact forms is super valuable. Where are your visitors based, geographically? Are there patterns you can identify in terms of the most visited content? Did you have any website inquiries? Who did they come from?
Be a stalker on social media (but a nice one). Check your LinkedIn page and those of your competitors – who are the profiles that engage most with their updates, either by likes or comments? Do you see any patterns? Who likes, comments or follows industry related hashtags? Tools for social listening and keyword research tools can help you with that.
Analyse (and attend) industry events. Whether in an online or offline form, digital events are great for meeting and talking to people. Where are the speakers and attendees coming from? What industries, job titles or regions do they have in common? Can you talk to attendees and find out what their challenges are and what are they looking for in an event?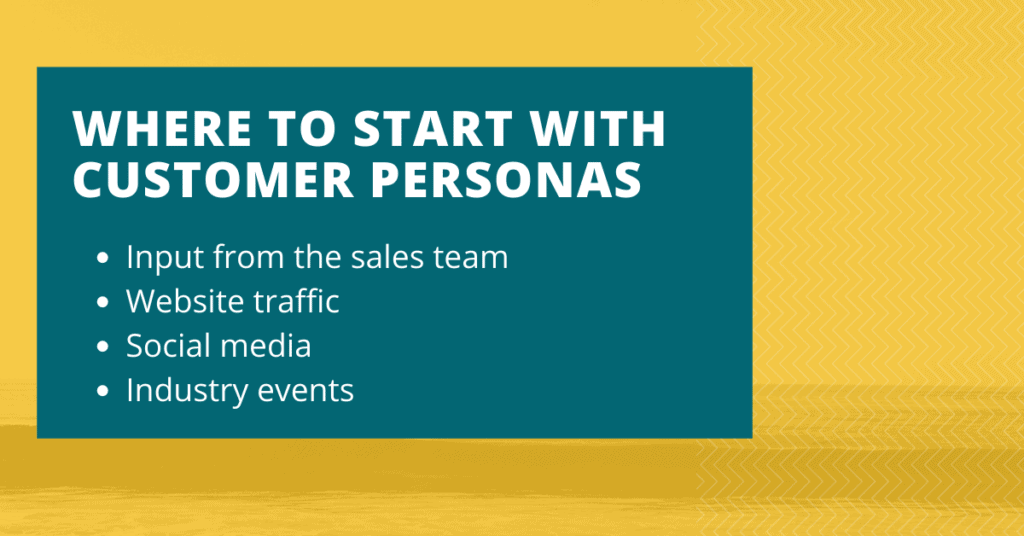 Once you get data from all these sources, spot trends, create clusters and test different marketing strategies for the personas you've identified. Plus, here's some further reading into Buffer's beginner's guide to marketing personas.
---
Get the next article in your inbox by signing up to our monthly newsletter:
About the author: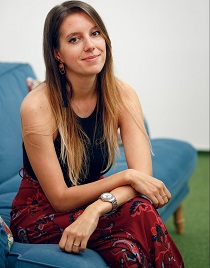 I am Raluca Apostol, Founder and Account Director at Event Marketing Stars and I have marketed over 60 events in the last 8 years, with attendee numbers ranging from 100 to 13,000, in small and big teams, in B2B and B2C, on 3 continents and helped deliver up to £4,000,000 in revenue.

I am passionate about events, lead generation and monetisation. If you want to reach out, you can find me on LinkedIn here.