As digital evolves, so do the customers. They are now expecting tailored messaging and offerings, plus, a direct interaction which is friendly and professional at the same time. Whether you're hosting a webinar, a conference or a meet-up, events are great for delivering the personalised interaction your customers are after and can also help you position yourself as a thought leader.
Before you dive into topics, speakers, logistics and a promo plan, remember that an event is a channel. Is this the right one for your goal? Can you achieve the same (or better) results from a different channel, like a social media ad with a form? Or a telesales team, an ad in a magazine?
Don't let the multitude of choice paralyse you, as you can always test different channels and review the results. However, do consider your goals and budgets before planning for a new channel.
Define your goal
Do you know that moment when you go to the supermarket without a list, planning to get bread and milk and leave half an hour later with 15 products, having completely forgot about the milk? Why have you even gone to the supermarket if all you needed was bread and milk? Why not the corner shop? Should you create a list next time? Do you need to reconsider your budget for food? Did you actually need milk or are you ok without it? It's quite similar with events.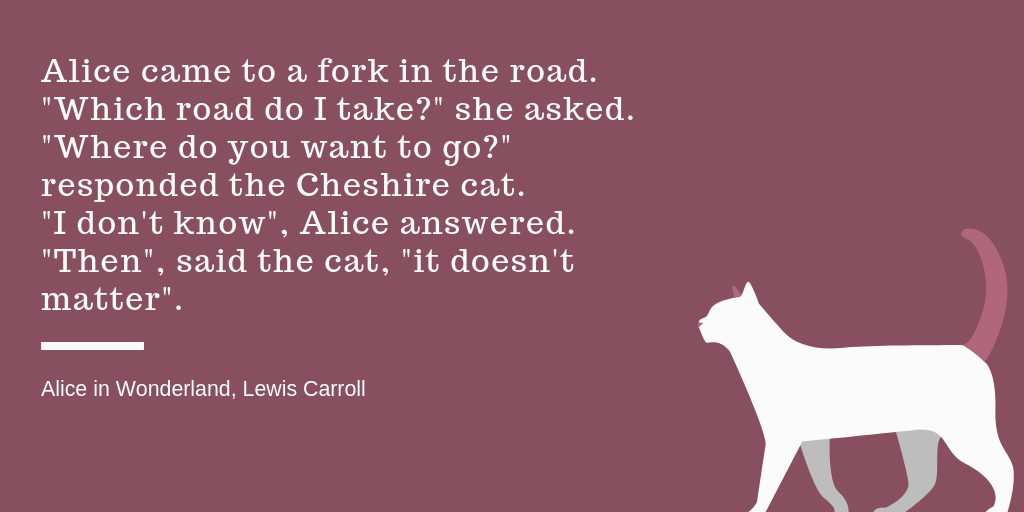 An old saying says "If you don't know where you're going, every road takes you there". Unless you have a well-defined goal for an event, you won't know if it was a success or not. Goals could be to engage with existing customers to increase the amount they spend with you, build awareness for a new product or service you are launching, reach out to new customers to present your offering or perhaps nurture existing leads through good content so you can stay top of mind. Don't pick too many objectives, an event that delivers for a multitude of purposes will be hard to put in place.
Now let's circle back to the initial question. Say you want to reach out to new customers to present your offering. Can an ad in a magazine do this for you? If the buying process is lengthy and there are a few decision makers involved, maybe it won't be that effective. In this case, you might want to meet them in person to start building trust and an event could help you achieve this, targeting more people than a 1 to 1 meeting could do.
Mind the budget
In order to assess results from different channels, you need to have a benchmark. ROI can be a great one, so evaluate the potential results by looking at the budget invested in getting them.
Here is a list of events organised by B2B companies, with blue marking hosted events and red sponsored ones: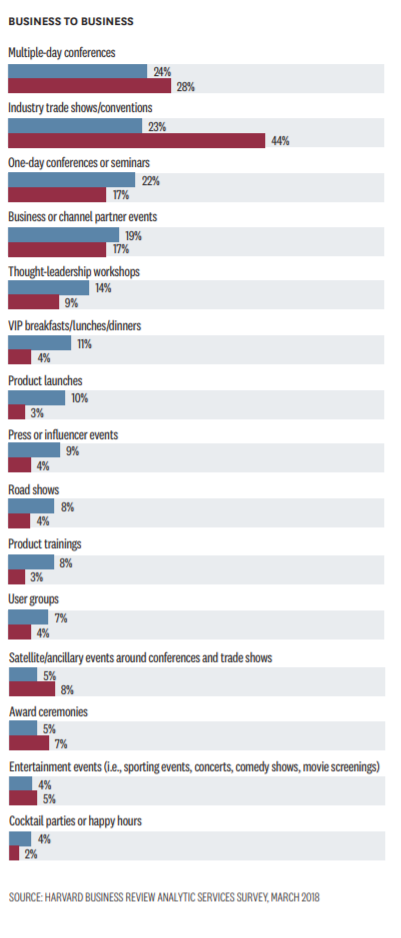 You've decided you want to engage with existing customers to increase spend and are looking at a networking dinner, an email marketing campaign and social ads in a magazine. The email marketing campaign is cheaper, but engagement rates on email (and replies to the newsletters) have been falling lately.
The social ads can also run at a better rate and have had good click rates, but no one has enquired using the contact form. Perhaps an event is better for engagement, as you can answer the questions your existing customers may have and can also increase the wow factor your company is offering, to delight them and get them more likely to buy again.
Depending on the size and objective of the event, it may require quite a lot of work, so another thing to make sure of is that your marketing team is ready for it. Will working on the event make them unable to focus on their other deliverables? Plus, do they have the know-how for event management and marketing or do you need to consider an external provider?
This will also impact the event budget and results you can expect, so give it a good thought. Remember, there is no right or wrong answer and it is sometimes difficult to review different options through research only. Start doing things on a small scale, make small investments in different channels, check results and start over. And always, I mean always, plan properly. Some things may go wrong, but with the right strategy in place, you're sure to get the best results you can.