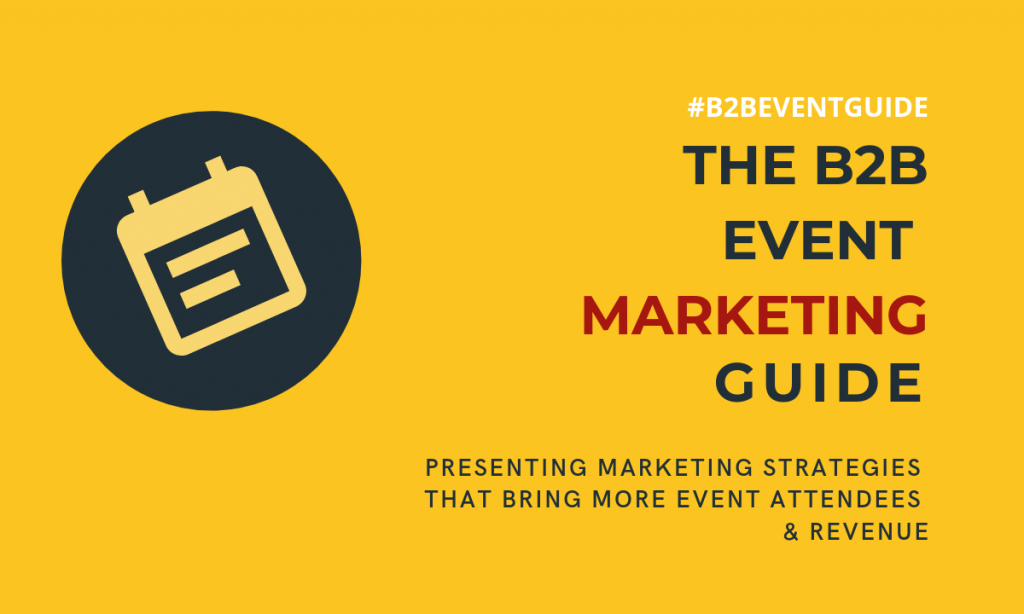 One of the million dollar questions in event marketing is "how do you attract attendees". To try and answer it, we've created The B2B Event Marketing Guide, a 15 chapters report on the full marketing strategy and planning process that goes behind a business event.
The article below is an excerpt from the guide. Find the other chapters here.
In this chapter: Putting together a plan of incentives for people to book tickets, in both paid and free events. Running special promotions with different objectives and presenting benefits of attending, with examples
There are a few event milestones that will need to be considered in your marketing activity and ticket sales strategy. In some occasions, you'll start marketing your event before the agenda is established or your speaker line-up is full (in the case of a conference). In case you are taking pre-registrations, make sure your audience is incentivised if they book early on, sometimes even before the agenda is launched (mostly for recurring events).
This will help you understand how well you marketing strategy is performing and where you still need to optimise and improve. Having early registrations also helps the sales team, who can showcase a sample of attendees to potential sponsors.
Incentives to register early
Be creative about incentives with your ticket sales strategy, as these don't have to be necessarily a price discount, but can also include exclusive access to content, specific sessions, meet and greet with speakers and others.
Since there's only so many Early Bird/price reduction stages you can use, consider creating urgency through other means too. A few examples of creating urgency outside Early Bird discounts:
Book by this Friday to get free access to a night at the hotel venue/this whitepaper/free invite for the pre-event networking dinner
We're offering an extra 20% discount to the first 10 people who register
We're launching the event app 2 weeks before the event date and all registered delegates will get access to booking workshops/arranging meetings with other attendees
For free events, you'll need to create urgency through extra benefits, since you won't have any Early Bird deadlines that push people to register before a set date.
The idea is to increase FOMO (fear of missing out) by telling them they can only get the extra benefit(s) if they register by certain date or saying you only have limited places available. Make sure you are factoring in these extra incentives from the start of your campaign and you can decide if and when you use them.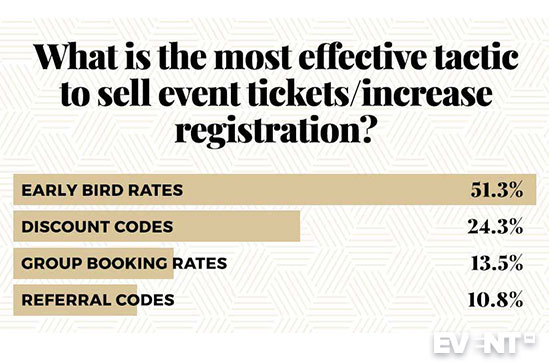 So, a sample plan can look like this:
| | |
| --- | --- |
| Weeks out | Activity |
| 16 | Early Bird deadline |
| 12 | Early Bird deadline |
| 10 | Extra incentive |
| 8 | Early Bird deadline |
| 4 | Extra incentive |
Alternatively, you can run promotions based on number of tickets. First 50 registrations receive 40% off, next 50 registrations receive 30% off and so on. You can also mix and match these, according to your objectives and booking patterns, but don't overdo it. A lot of early bird discounts and a lot of deadlines will confuse people more than offering them extra incentives.
As mentioned before, there are more registrations in weeks with special promos, so you want to ensure you have several deadlines in place to spike those numbers.
Special promotions tactics
You can run these special promotions for different audiences, in different ways:

– To increase registrations from all targets – if you see you're behind your target booking pattern, you can consider adding some extra urgency with a special promo for everyone
– To increase registrations from specific targets ­– you can offer extra incentives to specific industries or pre-determined job titles which you need at the event to attract extra people
– To test the efficiency of a partner – you can offer 20 free places/with a 15% discount to a specific community or media partner, to strengthen your relationship with them and test the efficiency of the partnership
Regardless of the promotion or discount you are offering as part of your ticket sales strategy, make sure the value your attendee gets from attending is clear. Just telling them they can save £200 by booking 2 months early won't matter unless they understand how much value they are getting for the investment they make in attending the event. A great example is the Dreamforce event's ROI calculator: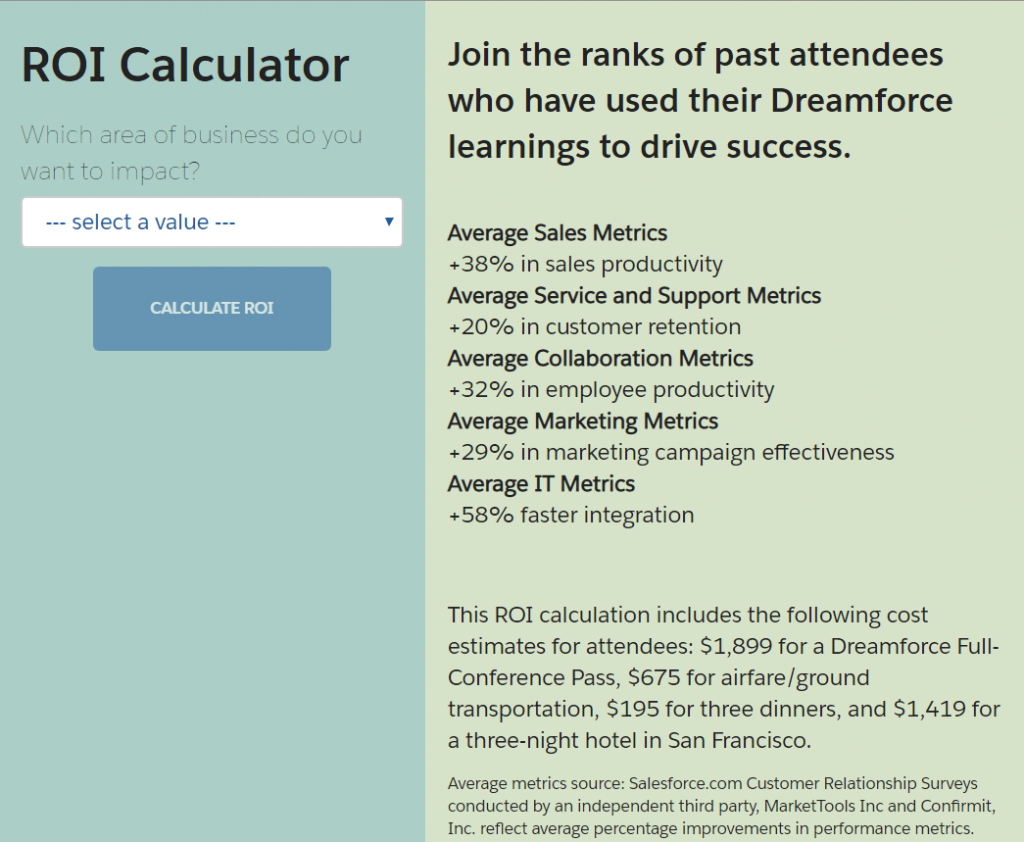 Another example of what a ticket gets you, that explains how the money is being used is Think About! pricing page: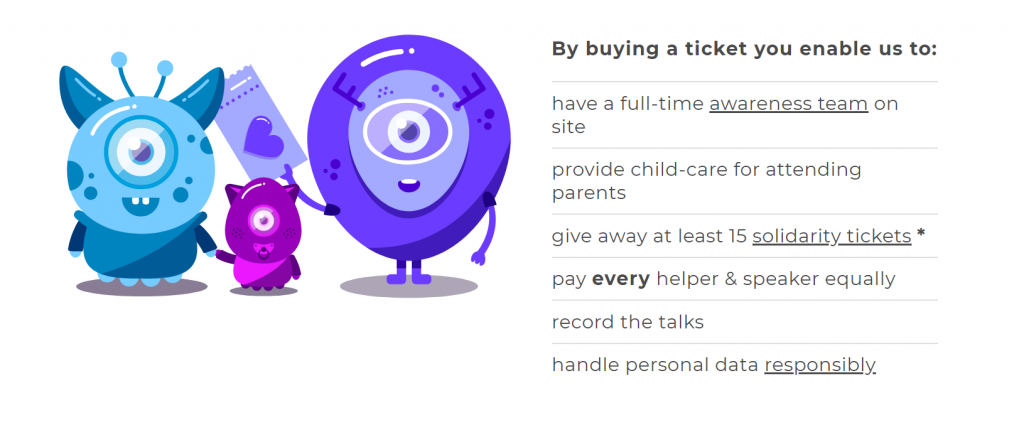 Plus, read here for a thorough analysis of event pricing strategies.
Key takeaways: Devise a pricing (and discounting) strategy that will help you achieve your objectives of attendees, help increase urgency and entice people to act fast in booking their tickets.
Anything missing from this chapter? Let us know in the comment section!
If you're interested in The B2B Event Marketing Guide, fill in the form below to download it: