Even though it may not be here (yet), the crisis certainly seems very close. Increased inflation, spiking energy costs, concerns over gas prices and supply chain disruption all make for a glooming outlook. No wonder most companies seem to have developed a plan they are already implementing, which involves cutting costs, freezing hiring and holding off budget spend.
With these past 2 years, it's no wonder we're getting ready. The start of the pandemic was a shock for a lot of companies, with the stock market declining, tourism companies getting hit badly and bars being shut down, possibly for ever. The B2B industry also struggled, from small to large – in the UK, media budgets were cut for the first time since the height of Covid.
So, you or your manager may have the urge to cut costs and we all know that marketing is among the first to suffer in these cases. But marketing costs mean even more lost opportunities during a time where they are already decreasing (and when you can take advantage of this in front of your competitors), so here's what you should be doing instead.


DO: Optimise your marketing spend
Of course, this isn't something you should be doing because it's a crisis, you should be doing this all day, every day. But especially now, so when your CMO or Director comes to you to say let's cut marketing budgets, you will be able to say that you're already running the best performing ads that are delivering the best results.
How do you know you're doing the best you can? You're continuously testing variables (how is this image of the product versus an image with people for this ad, what if we run a video ad compared to a static, are leads converting more from Facebook or from influencers, etc), shifting budgets and reporting results. Speaking of which:


DO: Check and double check your KPIs
Again, this should not be a "let's do this so we don't have budget cuts in crisis", it should be something you're constantly doing. But it may be case that you need to review your marketing objectives and adapt accordingly.
For example, if your sales team is telling you that leads tend to hold off on spending budgets, you may want to review the number of qualified leads the marketing activity can deliver. Are there any industries that perform better? Any verticals that are still spending budgets? Concentrate your marketing on them, to get the lowest hanging fruits.
For everyone other type of client, now is the perfect time to focus on nurturing, to ensure that when they are ready to make an investment decision, you're the first one they think about.
Review your KPIs, track progress and understand if you're still on track. If not, take the steps to adapt and shift budgets from lower performing channels and/or verticals to higher performing ones.


DON'T: Cancel events, meetings, media budgets
Of course, you will have to review your spend on all channels, but deciding to cut everything is usually not the smartest idea. Instead, try to pivot towards more effective channels (which, of course, you're doing constantly, we've already established that).
For example, if you were planning on attending 3 events in the next quarter, look at your revised KPIs and see which one is the best fit for them. Which one is most likely to bring in new contacts, from your target audience? Where are you most likely to engage with new leads? Make a plan on how each investment will generate results and choose the ones with the best expected ROI.


DO: Be flexible
Not only are we living a start of a recession (or at least, some strong signs that it may be coming), we're also living through the most uncertain times most of us have ever seen these past 2 years. This is not the time to stick to the plans you've done last year or last quarter, but it's the time to think on your feet and implement fast.
An example is a tech client of ours working in the energy space. Current legislation has meant a slow down in new contracts being signed, which is what the platform facilitated for SMEs. We pivoted from promoting the benefit of the platform to offering information about how legislation impacts the market and what can their SMEs clients do in this case. This ensures that when the legislation currently being debated changes, the client will be in a good position to sell to already warm leads.
This also means you need to be flexible around how you use your marketing budget, since you may have to invest budget in a new ad campaign quickly. Discuss with your superiors about having a buffer you can move fast to new ideas and ensure you take the steps to speed up approval process and time to market.
Flexibility can also be used with extra help. Instead of hiring full-time people in your team, work with freelancers or marketing agencies, that allow you to be more flexible. This will give you the option to start and terminate projects quicker (although you will need to allocate time for results to come in before you decide to stop projects).

DO: Focus on thought leadership
If your company is now seeing a dip in the number of projects it works on or if marketing activity has slowed down (in terms of preparing new campaigns, for example), it's a great time to focus on thought leadership.
Your clients are probably experiencing the same problems you are seeing – what can you do and advise on to make it better for them? How can you use your expertise to offer something that positions your company as a leader in the field?
Create a list of topics and then work on social media posts, articles, videos and events of your own to showcase these through. Include them in your lead nurturing plan and when once budgets are available once again, you will reap the rewards.

Our story
If you've read so far and haven't rolled your eyes or said "yeah, sure, like that's going to happen", then you can just skip to the end. But if you've thought "of course you'll say that, you're a marketer", here's our story, to share that I understand the struggles.
As a business owner of a small agency, I am involved in sales, finance and the development of the agency and the team. Q4 of 2022, even though as I'm writing this, is at the beginning, is already showing signs that it's going to be slower than previous years. Clients have less patience to see results (understandably given their internal pressure too) and some are holding off investment to use that money to survive.
What are we doing in a time where we'll likely see decreased activity? A combination of everything I've said above:
We continue investing in marketing. We're preparing a video (it's going to be so fun, can't wait to share it) and working on an outreach strategy for potential new clients for the agency. We're also considering new projects and business lines to launch.

We've revised our sales KPIs and looked at financials to understand what gaps (if any) do we need to cover for the short and long term.

As an agency working with freelancers, flexibility is embedded in our business core. We allocate resources based on the projects we are hired on. Our full-time members will focus on marketing the agency and the new business lines discussed at #1. At the same time, we're using this time to meet with our collaborators and strengthen our work relations.

We prepare for the future – first of all, we are helping our existing clients uncover and unlock new opportunities. Even though they may be outside the scope of the contract, when they win, we win, and that's the basis of a long term relationship. Plus, we're writing content and social media posts that will be ready to use when it gets super busy again and that will cement our position as thought leaders.

So, when we're giving advice, we also try to follow it. And we speak from what we know, rather than from what we think others should do (but definitely not us).

Marketing in times of crisis isn't easy and neither will be the budget cuts that follow. But if you're smart, data-driven, flexible and adaptable, you will make it to the other side of this recession (should it hit us or not) in one piece. Good luck!
Sign up for the newsletter
Receive the latest articles. No spam, ever.
About the author: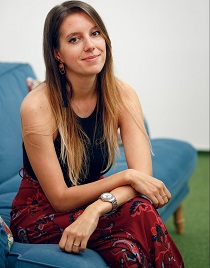 I am Raluca Apostol, Founder and Account Director at Event Marketing Stars and I have helped generate over 30,000 leads for clients in B2B and B2C, on 3 continents.

I am passionate about events, lead generation and monetisation. If you want to reach out, you can find me on LinkedIn here.