Three years ago, I was attending a company meeting where the CEO was talking about a financial dip (not a crisis) that will take place in the economy in March 2020. They were saying that analysts have made projections and it looks like around that time we'll see the signs of a mini recession, so the team needed to start preparing for it.
And now here we are – not a dip, but a major recession we were so not prepared for. We're already seeing the stock market decline, tourism companies getting hit badly and bars being shut down, possibly for ever. The B2B industry isn't looking too great either – entrepreneurs are seeing their business activity slow down or halt completely, big companies are seeing their shares plummet and event companies are now sitting in a corner crying about all that lost opportunity. Of course, the organizations that were joining those events are also losing out new leads and businesses.
So, you or your manager may have the urge to cut costs and we all know that marketing is among the first to suffer in these cases. But marketing costs mean even more lost opportunities during a time where they are already decreasing, so here's what you should be doing instead.


DO: Optimise your marketing spend
Of course, this isn't something you should be doing because it's a crisis, you should be doing this all day, every day. But especially now, so when your CMO or Director comes to you to say let's cut marketing budgets, you will be able to say that you're already running the best performing ads that are delivering the best results.
How do you know you're doing the best you can? You're continuously testing variables (how is this image of the product versus an image with people for this ad, what if we run a video ad compared to a static, are leads converting more from Facebook or from influencers, etc), shifting budgets and reporting results. Speaking of which:


DO: Check and double check your KPIs
Again, this should not be a "let's do this so we don't have budget cuts in crisis", it should be something you're constantly doing. But it may be case that you need to review your marketing objectives and adapt accordingly.
For example, an objective I was working towards this year included over 700 leads from attending an event, that has been cancelled. Now, I need to look into:
Generating those leads from other channels
Updating my lead generation targets for the year
If I aim to generate the same amount of leads from other channels, my spend is going up. But if I update my lead generation targets, the revenue I can generate decreases. It's a tough choice you need to make, being aware that less marketing can translate to less clients and less income.
This is the time to review your KPIs, track progress and understand if you're still on track. If not, take the steps to adapt and shift budgets from lower performing channels and/or verticals to higher performing ones.


DON'T: Cancel events, meetings, media appearances
Of course, some of your events will have been cancelled already and it's safe to avoid meetings during the next period. But this doesn't mean you can't get creative about the content you offer and how you reach out to people.
For example, Adobe didn't let the current situation affect their Adobe Summit, but they moved it to digital. The Business Marketing Club (an organization that runs B2B events for marketers which I also attended) have cancelled their live meetings and are instead running webinars every week. Look for alternatives that have a lower cost associated than live events and meetings and use them to your advantage.


DO: Be flexible
Not only are we living a recession, we're living through the most uncertain times most of us have ever seen. This is not the time to stick to the plans you've done last year or last quarter, but it's the time to think on your feet and implement fast.
An example I'm close to is Maastricht School of Management Romania (disclaimer: we work together). They are a business school and have decided to use the resources they have – business experts, lecturers and alumni – to create content around the main issues for businesses in times of crisis. In 2 days they launched and ran a webinar that gathered 250 attendees (compared to a maximum of 50 on other topics pre-crisis). If they took more time to prepare the event, they could have lost momentum and gave the competition the space to create their own events.
This also means you need to be flexible around how you use your marketing budget, since you may have to invest budget in a new ad campaign quickly. Discuss with your superiors about having a buffer you can move fast to new ideas and ensure you take the steps to speed up approval process and time to market.
Marketing in times of crisis isn't easy and neither will be the budget cuts that follow. But if you're smart, data-driven, flexible and adaptable, you will make it to the other side of this recession in one piece. Good luck!
Sign up for the newsletter
Receive the latest articles. No spam, ever.
About the author: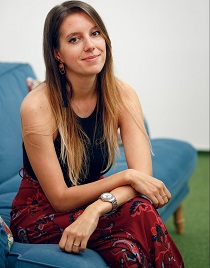 I am Raluca Apostol, Founder and Account Director at Event Marketing Stars and I have helped generate over 30,000 leads for clients in B2B and B2C, on 3 continents.

I am passionate about events, lead generation and monetisation. If you want to reach out, you can find me on LinkedIn here.