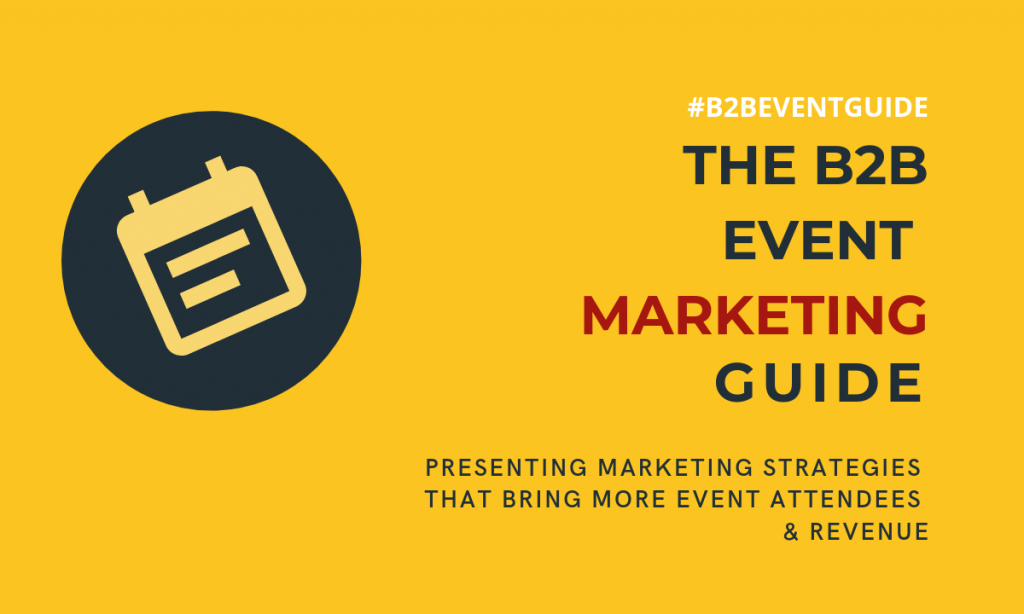 One of the million dollar questions in event marketing is "how do you attract attendees". To try and answer it, we've created The B2B Event Marketing Guide, a 15 chapters report on the full marketing strategy and planning process that goes behind a business event.
The article below is an excerpt from the guide. Find the other chapters here.
In this section: Explanation of paid media channels and using a mix of them to reach your different objectives. Ad formats and what B2B marketers consider most efficient. Using communities and influencers to promote your event and what monitoring tools to use to find the best fit for you. Performance indicators for paid media.
Depending on your budget and scope of the event, you will use different paid media channels too. We can split them into 2 big categories: traditional media and digital media. Traditional media is TV, radio, newspapers, magazines, radio and outdoor (billboards, banners, etc), whilst digital media would be paid ads (Google, Bing, etc), social ads (Facebook, LinkedIn, Twitter, Reddit, etc), influencers and community outreach.
Since B2B events are more targeted compared to B2C events, marketers need to ensure any media they use are addressing the correct target audience and that the results are bigger than the investment.
Differences between traditional and digital media
You can choose to run ads to increase revenue from sponsorship by generating new leads, to increase attendance from your target audience or to generate awareness about your event and brand. In each case, you will attribute a specific value to each objective, so you can then evaluate the effectiveness of the channel.
Trying to gauge effectiveness from each channel can be tricky. For traditional media, it is usually harder to attribute a registration or an inquiry to one channel alone. In this case, you can add unique discount codes for each channel or use surveys to discover how each person has found out about the event, but these aren't 100% accurate.
Sometimes people forget what made them engage with a particular event or are contacted via multiple channels, so attributing results to one single channel is difficult. However, you can still look at overall ROI for the event and test the allocation of budget per channel in consecutive events to try and get an understanding.
Digital media has a better tracking system, since there are tools that show you how many clicks you've had per each channel, if people have registered, what pages they have visited, how much time they've spent on the website, so you have a better understanding of the results you are getting.
It's also quicker to react to changes, if you find a digital channel underperforming, it is easier to stop additional budget spending and redirect the investment to another performing channel than there is for traditional media.
If you're running a free event, you can look at the sponsorship value extracted from a specific number of attendees, i.e. every extra 1,000 attendees brings us $50,000 in revenue.
If your objective is to generate awareness, you will have to analyse results on the long run, so perhaps you will look at revenue or attendee increase in a few years. Here is an example of spend on traditional vs digital media in the US. These will differ from region to region: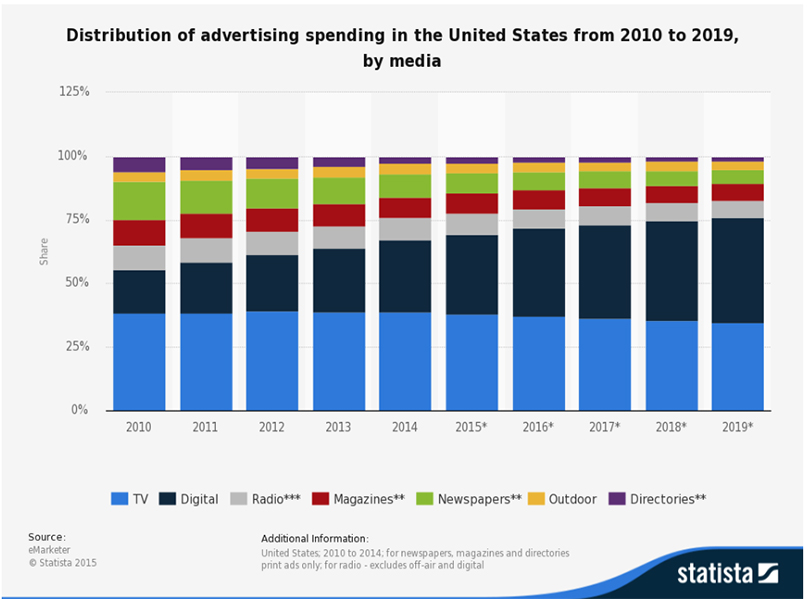 Another advantage of digital media is being more targeted than traditional media. If you run an advertisement in a magazine, you can't choose which magazine buyers will see it and which won't.
This can be done successfully on digital media, with ad platforms having targeting and segmentation options, which means you can also choose to show different ads to different people. For example, you might use an ad to gain sponsorship interest and a different ad to make people register for individual tickets.
Digital is also more permissive with the format of ads. Whilst traditional media have fixed formats – you can't play a video in a magazine or use a text ad in a TV commercial, digital media allows different formats: text only, text + image, image only, animated images (GIFs), video, carousel, interactive ads, etc.
Ad formats
Here is an explanation of the different Google Adwords campaigns, a guide to Facebook and Instagram different types of ads, some insight into Twitter ads and formats, how to advertise on LinkedIn and some examples of interactive ads. Here is an insight into the least effective ads: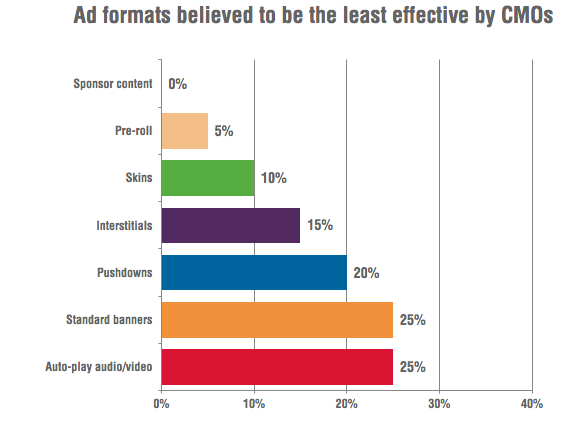 If you're asking yourself what channels to use, how much budget to spend, what ad formats to run, what messaging, how many weeks out from the event, the bad news is there's no success formula you can just apply. The good news is you can (and should) test as much as you can.
With the rapid response from digital media, you can generate results from your tests quite quickly and see what delivers the most clicks, the most engagement or the most registrations.
The landing page an ad directs to is equally important. If your ad promotes speakers, but you direct users to your homepage, where they need to scroll 3 times to get to the speakers, your ad may not be as successful. We have discussed landing pages creation here.
In terms of social media ads, here is what B2B marketers are using the most: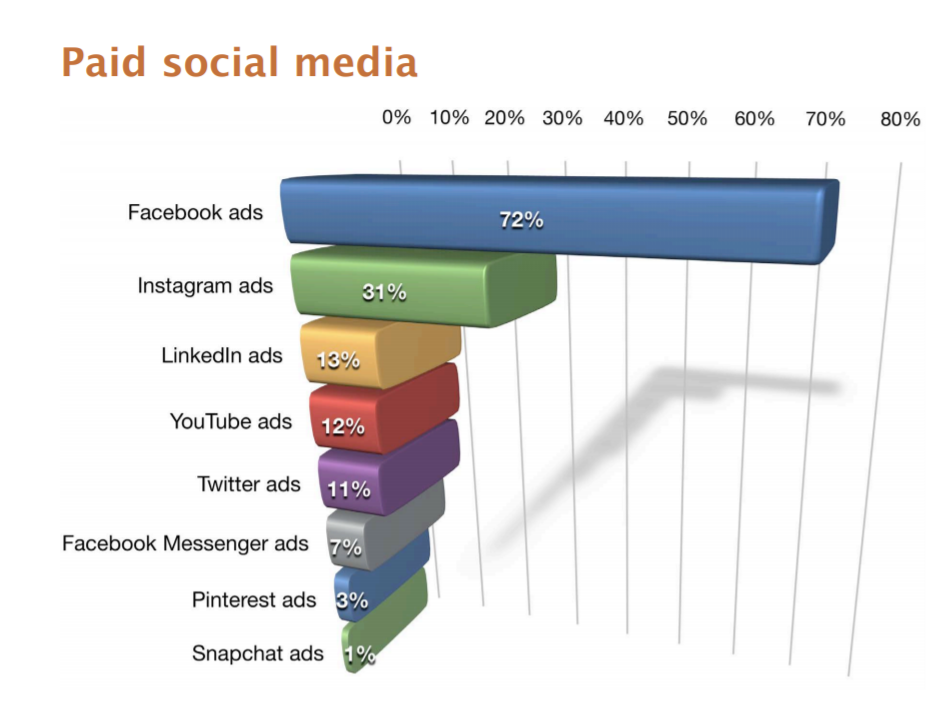 B2C marketers are using Facebook ads more (76%) than B2B marketers (66%). B2B marketers are using LinkedIn ads more (21%) than B2C marketers (8%).
Communities and influencers
Communities and influencers can also be helpful in promoting your event. Communities can be hubs, Meetups, LinkedIn groups, Slack channels, media outlets, forums, etc. In some cases, you will be able to partner on a barter agreement and gain free exposure in exchange for free tickets or discounts or cross promo on your platforms. We discuss this in the earned media section here.
Other times, you will have to pay to promote your event to these communities. With most of them being digital, you can understand what the structure of the target audience is and decide based on how well it matches with your target audience.
To better track results, make sure you either use landing pages for each community or discount codes. They will also show up in your Google Analytics traffic sources, but a discount code will also help you track return visitors, who don't book on the first visit.
Influencers can be part of your marketing strategy either on a barter basis, offering them a free pass to attend the event or on a paid basis, where you pay for a post on their social accounts, a blog post, a banner, a mention in their podcasts, videos, newsletters or any other channels they use.
You can use online tools to find influencers, such as Mention, SocialBlade, Right Relevance or PeopleMap. These will show you who are the people with the biggest networks based on specific keywords and they can become VIP attendees or can be used as influencers in your paid marketing strategy. Here is some useful reading on influencer marketing strategy.
Performance indicators for paid media
Now that you've decided what channels to use, what types of ads to run and what your budget is, you need to establish which KPIs you will review. These will depend on the objectives you have:
Generating event registrations – either paid or free
Your ultimate goal is conversions, but you also need to track what happens before that: clicks, engagements, shares. Conversions are calculated as number of people who register divided by the total number of people who visit your website via that particular ad. Your aim is to have an effective conversion rate, so increasing the number of people who register after clicking on an ad. Here are a few conversion rates examples: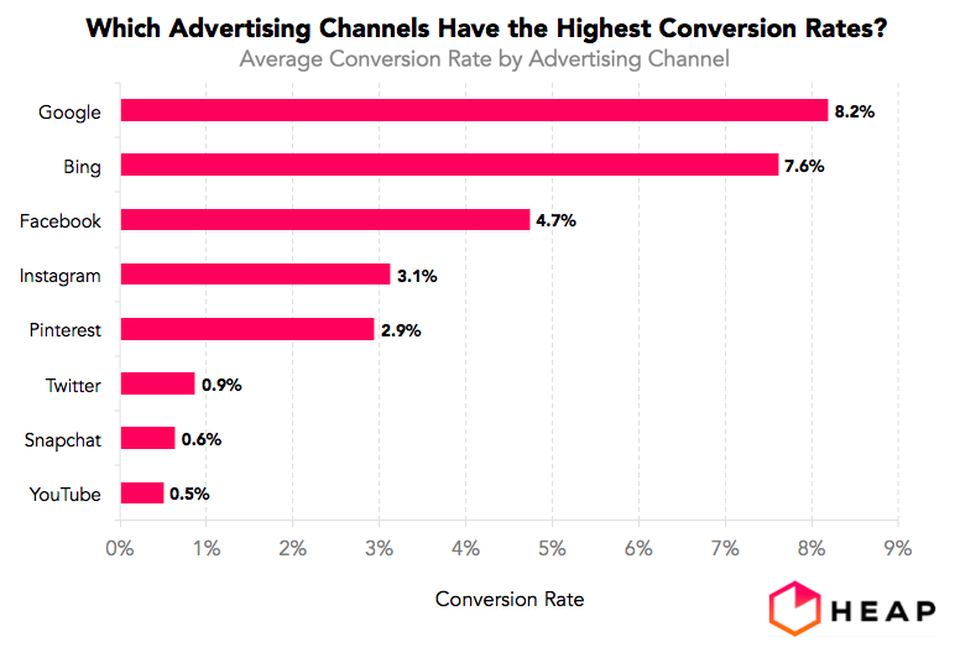 Optimising your conversion rate can be done by adjusting the ad copy, targeting and spend, but also by continuously improving the landing pages the ads direct to, as discussed in the website section here.
Generating sponsorship leads
Your sales team and your CRM will help you analyse results in terms of sponsorship leads (see automation section here). You can use separate landing pages for types of ads or ad channels to track results and use a contact form that is linked to your CRM on each page, to ensure leads have a lead source attached to them in the CRM, if this functionality exists. This will give you an easy way to analyse performance and review the revenue generated from each channel.
Your sales team can also find out directly from customers which channel sparked their interest the most, though as mentioned before, this isn't always accurate.
Generating awareness
If you're running ads to build your event brand, the results will most likely be seen in the long run. However, you can also run surveys for your target audience to measure brand awareness and look at metrics such as reputation and reach – here are some tips and tools for measuring brand awareness.
Key takeaways: analyse pros and cons of each channel, choose paid media according to the results you're expecting to get and continuously test to improve ROI for your budget.
If you're interested in The B2B Event Marketing Guide, fill in the form below to download it: